YES YOU CAN! How Team Hoyt Overcame All Obstacles to Complete its 28th Boston Marathon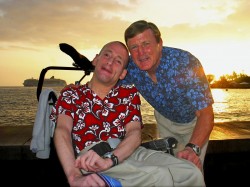 At the corner of Commonwealth Avenue and Hereford Street, the enthusiasm of the crowd had been amazingly constant for hours. They clanged cowbells … yelled raucous cheers of encouragement … clapped non-stop as wave after wave of the 2010 Boston Marathon runners passed by in the final mile of their 26.2-mile journey from Hopkinton. Then suddenly, back down the road and out of nowhere, the applause rose to a new, spine-tingling crescendo: Boston's beloved Team Hoyt—Dick Hoyt pushing son Rick in his wheelchair—had finally emerged from the Massachusetts Avenue underpass and was heading towards the finish line in their 28th Boston. Many spectators had obviously been patiently waiting hours for this moment.
Over the years Dick has always managed to make it seem so easy. But on this day, while 48-year-old Rick was as joyful as ever, his father's face was set determinedly as they made the right turn onto Hereford Street, betraying the pain and strain he rarely allows others to see. A few minutes later they crossed the finish line on Boylston Street in a gutsy 5:26.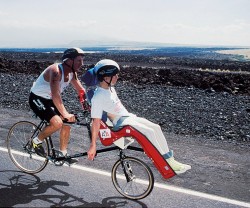 Dick and Rick, who has cerebral palsy, have been a fabled team since 1977. Their courage—and their motto 'Yes You Can'—has helped to raise millions for charity and inspired countless thousands of people who've watched them not only run marathons, but compete in the Ironman Triathlon. (For the Hawaiian classic, Dick not only pushes Rick's wheelchair the marathon distance, but tows him in a raft through the 2.4-mile ocean swim—then carries him in a special seat on his handlebars for the 112-mile bike leg). In 1996, before the 100th running of the Boston Marathon, Team Hoyt was ranked tenth in a poll of the most influential runners in the history of marathoning. And along the way they hit a PR of 2:40.
This year, as usual, Boston was a triumph for the Uta Pippig-trained charity runners of Team Hoyt: 24 members from around the country raised more than $77,000 for deserving causes. But the 114th Boston Marathon required every ounce of Dick Hoyt's big heart. A few days afterwards—a month short of his 70th birthday—Dick talked exclusively to Take The Magic Step® about the challenges the passing years are presenting … and the future of the legendary duo.
"We are getting older," Dick said matter-of-factly. "I'll be 70 on June 1 and Rick just turned 48. Only two years ago he weighed between 115 and 120 pounds—now, as he's older, he's up to 148 pounds. So between my getting up in years and Rick's weight it's been very difficult pushing his running chair."
Then there was the new chair. Rick has been having back problems that made it painful for him to sit in his old, lightweight chair for a full marathon. They worked on a custom-made chair that was more comfortable for Rick, but was a lot longer and higher and heavier to push and required last-minute tinkering. "The holdups were weighing on my mind," Dick says. "I kept thinking, 'Is the chair going to happen in time?'" His fears were almost realized: the new chair was delivered just in time to pack it in the van and head for the start at Boston. No time to practice with it. Plus, the pressures of traveling and a demanding schedule of motivational speaking engagements had limited Dick to a maximum 14-mile training run.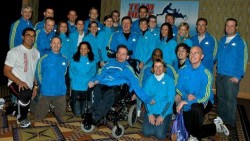 In a pre-race email sent to the Team Hoyt runners, in addition to the new chair question marks, Dick noted that he'd been having unexplained breathing problems, and needed weekly physical therapy on his hamstrings. However Dick went on to say "… but at some point that afternoon you will see Team Hoyt crossing that finish line. 'YES YOU CAN.'"
It was an accurate prediction. Dick's courage was tested early in the race. "At about seven miles I had to stop because I was having problems breathing. I felt dizzy and very lightheaded. I walked for a while, then I was able to pick it up and run again. But that kept happening every 25 minutes. Then I started to have stomach pains. It wasn't a very fun day." He went on, "I knew that we would make it, but the time was getting later and later. Rick and I weren't used to going this slow. He likes to go fast and he wants to win. The last thing he wants is to sit for five hours. Trouble is, we both remember when our times were so good for so long."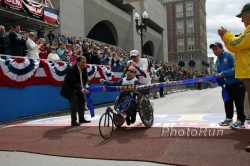 Team Hoyt was forced to make its last stop five miles from the finish. Then the crowds, as if they sensed the courageous struggle playing out before them, began to encourage them louder than ever. "We got an unbelievable reception on Commonwealth Avenue," he says. "They see us coming in the distance and they start cheering and that's what kept us going."
I had anticipated Dick might be upset when I dared to ask: Given the march of time and all these daunting setbacks, how long can Team Hoyt continue to roll over the hills to downtown Boston? But the answer came without hesitation: At least two more years. "Two thousand twelve is Rick's 50th birthday. It would be our 30th Boston. And it's the 150th anniversary of John Hancock, the race sponsor. I'll be 72, but we have to make that one."
Dick's new book—'Devoted: The Story of a Father's Love for His Son'—came out on Marathon weekend and is selling briskly. And there was another thing about this year's run that made him very happy. "What made my day was that Rick didn't have any pains in his back. The new chair was comfortable and worked for him."
Dick smiled. "But not so much for me," he added, his eyes filled with determination and love.
© Copyright 2010-2022 by Take The Magic Step®. All Rights Reserved.
Article Archive