The Indomitable Spirit of a Remarkable Athlete Inspires Hope for Life's Toughest Challenge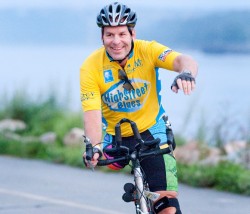 Jothy Rosenberg was just a normal, happy-go-lucky high school kid when he came face-to-face with the first of the formidable challenges that have shaped his extraordinary life.
His amazing story began in 1973 when, at age 16, he collapsed in his school gym outside Detroit with searing pain in one knee. "The doctors told me I had osteogenic sarcoma, a cancer so rare it strikes only about 900 people in the United States every year—almost all children," he said. "It was destroying the healthy cells of my knee joint." His anguished parents—both medical doctors—stood by his bedside as the surgeon told him he was going to amputate at seven o'clock next morning. "To make things worse, I ended up with a five-inch stump—way too short to work well with a prosthesis," he said. Three years later, with Jothy adjusted to his new life and confident on crutches or a wooden leg, he nicknamed 'Herbie,' tragedy struck again. "I went for a routine checkup and they found the cancer had come back and spread to my lungs," said Jothy. "I was 19, in my sophomore year of college, and I heard a doctor telling me bluntly that no-one with this kind of cancer had survived once it spread through the bloodstream. He might as well have said, 'You have zero chance of survival'—because that's the message my brain heard."
Surgeons removed most of one lung and the teenager underwent twelve months of chemotherapy. "It was the lowest point of my life," he said. "Each treatment was like five days of the worst hangover of your life and all the time I was thinking I was going to die any day. I cursed my bad luck and asked over and over, 'Why me?'"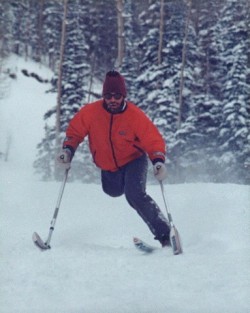 But after a year of bitter despair, the gutsy teen decided he wasn't going to give up on life. Happily, the punishing chemo treatments had chased his cancer into remission and he began to think for the first time that he could survive. "The next step was telling myself I wasn't going to let anyone put any limits on my life," he said. Then he made an amazing decision: instead of returning to college, he would head west to Alta, Utah,and do something he'd always dreamed of—become a ski bum. He'd once been a great two-legged skier—now he had to teach himself to hit the slopes with one leg. And he succeeded so well that eventually his instructor asked him to help teach regular skiers. "'My God,' I thought," said Jothy. "'I just crossed over from being disabled to being an example!' Ever since then I've told myself: 'win one victory, go on to the next battle and win that, too.' Pretty soon these little victories start to add up to confidence—and at that point self-pity becomes a distant memory."
That was just the start of Jothy's incredible comeback story. On one leg, he mastered black diamond skiing, open water swimming and riding a bike with one pedal. He's ridden his bike thousands of miles in the famous Pan-Massachusetts Challenge and raised a staggering $100,800 for cancer research; and no fewer than sixteen times he's braved the treacherous waters between Alcatraz and San Francisco—grueling charity swims that have brought in another $40,000 to help the homeless. Along the way his indomitable spirit has inspired countless others and made him a legend.
"The athletics taught me I could tackle really difficult things and succeed," Jothy, now 53, told Take The Magic Step® in an exclusive interview. "Sports were the key to regaining my self-esteem—it finally dawned on me that if I could do those things I could do anything."
Jothy, who lives outside Boston, also transferred that philosophy to business as he became a successful entrepreneur, launching six high tech start-up companies. One, which he began by raising a $65,000 investment, was sold seven years later for $125 million. Now he is about to publish an autobiography—aptly titled "Who Says I Can't?"—that he hopes will help provide a path back to hope and happiness for others who've experienced tragic life changing events.
Jothy taught himself to ride a bicycle with one leg doing twice the work—not only pushing down on the lone pedal, but, with his foot encased in a "rat trap," pulling up on it, too. Every year he draws huge applause from the crowds who line the route of the 192-mile Pan-Mass Challenge bike-a-thon. The money he's proud of raising mostly from small donations goes to the Dana-Farber Cancer Institute in Boston—to be used, fittingly, for the kind of research and treatment that saved his own life.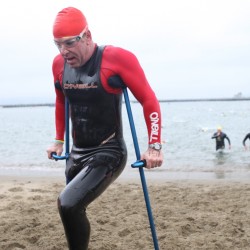 Legend has it that only three prisoners have ever escaped from Alcatraz, America's most famous penitentiary, by swimming the treacherous waters to the mainland. Others have tried, but never been seen again. But, side by side with thousands of "two leggers," Jothy has made the annual 1 ½-mile swim through the rough, cold and intimidating waters of San Francisco Bay for sixteen years, raising tens of thousands of dollars for the Boston Healthcare for the Homeless Program, where his wife Carole works. "When I get close to the shore in San Francisco my daughter wades in to hand me my crutches so I can run in to the finish line," he says. There's invariably a deafening roar from the crowd when they see him emerge from the water. "They give me the inspiration to come back next year—and I hope I've done a little to inspire them in their own lives, too," he said.
Jothy's missing leg has also been the source of some hilarious entertainment for his dinner guests. One day the driver of a Land Rover pulled across his path—and sent Jothy and his bike flying into the road. "He got out of his car, saw me lying there, so winded I was unable to speak—and with only one leg," Jothy laughed. "He was in such a panic he immediately assumed the impact of the crash had severed my other leg and as I lay on the ground speechless he started frantically searching for it. When I was finally able to talk he was extremely relieved to learn that my right leg wasn't pinned under his rear axle!" Another time, wearing a rarely-used prosthesis, Jothy was cutting a tree when the chain saw he was using jerked out of control. A friend watched in horror as the saw's teeth bit deeply into his thigh. Fortunately it was the right leg—literally! "Instead of flesh and bone it ripped into fiberglass," smiled Jothy. "My pants were ruined and my heart was beating out of my chest—but my good leg was untouched."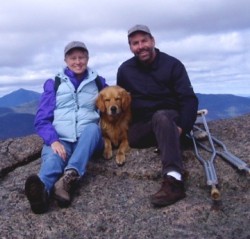 He has been happily married for 28 years and has three children with his wife Carole. "Their support has been crucial in what I've achieved," he said. "It has never occurred to me to feel guilty about my disability putting a strain on them—because I believe they got stronger as well as me. They're totally into what I do and they're my biggest boosters."
Jothy gives motivational talks to high school kids in four states and is always ready to help people mired in coping with their own personal crises. Ironically, he is convinced he would not have accomplished so much in life if he had not faced the formidable challenges he did at so young an age. "I set out doing things for myself, then I accidentally discovered while doing them, that I could help two legged people and also people who were going through the same thing as me," he said. "As a 16-year-old lying in a hospital bed with one leg gone, my mind on fire with anguish about how I might live a normal life, and then as a 19-year-old with one lung trying to recover from chemo and thinking 'I might not live,' I felt completely on my own."
Jothy wrote his book, he says, because he hopes it will inspire others not to give in—even to life's harshest challenges. "If it helps anyone facing a disability or serious life trauma to deal with it better and faster than I did, I'll be happy," he said.
Some of the proceeds of Jothy Rosenberg's book, "Who Says I Can't?," will go to the O'Brien Osteosarcoma Fund at the Dana-Farber Cancer Institute. The book will be in print in October, but can be pre-ordered at www.whosaysicant.org
Posted September 24, 2009
© Copyright 2009-2022 by Take The Magic Step®. All Rights Reserved.
Article Archive