The First Marathon—Still Echoing 2,500 Years Later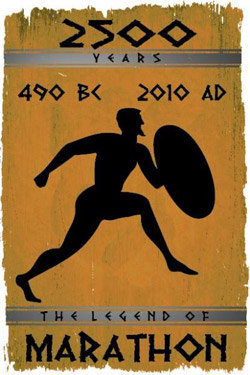 Next time you line up at the start of a marathon, consider this: you would be doing something else considerably less exciting if a stalwart group of underdogs hadn't scored an upset win in a battle against an overwhelming army 2,500 years ago. Pheidippides (pronounced Fai-dipi-deez) would be a name unknown—and the magical event he unwittingly founded, the distance race that's become arguably the most beloved and challenging in the world of running, wouldn't exist.
The legend of the Athenian soldier's run from Marathon to Athens to announce his country's unexpected victory over the Persians—getting the news out just before dropping dead—has had historians arguing for centuries over its factual base.
But Paul Cartledge, a professor of Greek Culture at England's Cambridge University, is in no doubt whatever about Pheidippides' beneficial role in exalting the event that now tests millions of runners around the world every year. "What if the Persians had won?" he asks. "Whatever else may be claimed, there would have been no myth of a run from Marathon to Athens to report the result, and so no Athens Marathon of 1896, no Boston Marathon of 1897, and the world would have been a drearier, less fit place."
So who was Pheidippides, this man to whom we runners owe so much? And what exactly does legend say he did in 490 B.C.?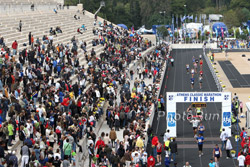 We can follow in his historic footsteps across the inhospitable territory between Marathon and Athens—much as 12,500 runners from around the world will do in the 2,500th anniversary Athens Classic Marathon of 26.2 miles on October 31. (But like all modern marathoners they will run a little farther than Pheidippides. So who added the extra distance and why? More about this later.)
Persia—then the world's most powerful empire, extending from Asia to Egypt and Turkey—had landed a force of as many as 30,000 infantrymen at the bay of Marathon, north east of Athens, as a first step in a planned conquest of Europe. Outnumbered four to one, the desperate Athenian generals decided the only thing that could save them was the help of their warrior neighbors in Sparta. But how to alert them?
Step forward Pheidippides, a young soldier and renowned battlefield runner. He was ordered to run 140 miles, through rugged, mountainous territory, to beg the Spartans for help. Incredibly, we are told, he reached his goal in around 36 hours—only to be informed, in effect, "Sorry, we would love to help but we can't come until the moon is full." (The Spartans' religious laws wouldn't let them fight any sooner.) Pheidippides immediately turned and ran 140 miles back to tell his generals their undermanned army would have to battle alone. With little rest, he donned his armor and joined the Athenian march to the unbalanced confrontation on the Plains of Marathon.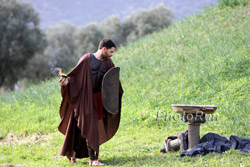 In spite of the odds, the Athenian heavy infantry struck first. In an apparently suicidal maneuver aimed at taking the enemy by surprise, the troops ran a mile, each infantryman carrying up to 70 pounds of equipment, before launching themselves on the lighter-armed and unprepared Persian infantry. The invaders never recovered. By the end of the day 6,400 Persians lost their lives on the battlefield, while only 192 Athenians didn't return to camp. But, alarmingly, the surviving Persians escaped back to their ships and prepared to sail south and attack Athens. Two thousand five hundred years later you can almost hear the panicked Athenian general's order: "Get me Pheidippides!"
This time his orders were to run to Athens, announce the victory at Marathon—and warn the city about the oncoming Persian armada. Pheidippides had fought all day in heavy armor—but he set out unquestioningly on what many historians now believe was a run of about 25 miles. Amazingly, he reached Athens in about three hours, according to historical reports, delivered his twin messages of triumph and potential disaster—and dropped dead on the spot, most likely from exhaustion. Happily though, his doomed run was not in vain: the full moon rose shortly, Spartan troops made it to the Athenians' side in time, and they stood together in Athens to once and for all repulse the Persian attack on Greece and save democracy.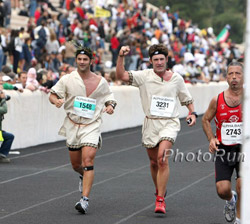 On October 31 this year, runners will begin the Athens Marathon on the actual Marathon battlefield, circling the memorial that marks the grave of Pheidippides before following his ghost over a tough, hilly course to Athens. This outstanding event will host star athletes like Isaac Macharia and Jonathan Kipkorir of Kenya. Fittingly, a trio of runners who are legends have been invited to participate in the celebration: Katherine Switzer, who publicized women's long distance running when she gate crashed the then-men only Boston Marathon; Ron Hill, the former Boston champion from England; and Waldemar Cierpinski, the German two-time Olympic marathon gold medalist.
Fun Fact: So if Pheidippides' epic run 2,500 years ago stretched for approximately 25 miles, and the inaugural Boston Marathon of 1897 faithfully followed that distance, why today do we have to survive another often-excruciating 1.2 miles? Blame the Queen of England! The organizers of the 1908 London Olympics marathon wanted to begin the race in the spectacular setting of Windsor Castle. But it was exactly 26 miles from there to the Olympic Stadium in London—so add one mile. Then the Royal Box turned out to be situated on the opposite side of the stadium to the finish—and Queen Alexandra let it be known that she would like to have the marathon finish in front of her. No problem—just add another 385 yards, or .2 miles.
And people wonder how the marathon acquired its mystique!
© Copyright 2010-2022 by Take The Magic Step®. All Rights Reserved.
Article Archive