Katie Kyme: A Triathlete's Amazing Comeback from Cancer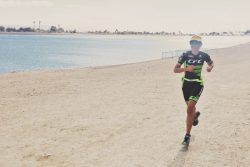 Katie Kyme has been an athlete for most of her life. Growing up in Australia, she ran competitively, following in the footsteps of her father, who was an Olympic track runner, and a brother who does ultra marathons. At the age of 13, she started swimming and a few years later discovered triathlon. By the age of 17, she was racing on the ITU (International Triathlon Union) circuit as an elite junior and quickly making her way up through the ranks in the sport. A promising future as a professional triathlete, it seemed, would undoubtedly lie just around the corner.
The Six Letter Word No One Wants to Hear
In 2000, at the age of 19 and looking to get more training and racing experience in North America, Katie moved to Canada on a scholarship to the University of British Columbia. Life was on the upswing, and the future looked bright. After several months in Canada, however, things started to take a downturn. Workouts weren't going as well, Katie was tired all the time. Then the headaches started, leading to blackouts—and, terrifyingly, she suddenly lost her hearing. She headed back to Australia, where doctors told her she had brain cancer. School and her triathlon career were put on hold, and she spent the next two years in and out of the hospital, undergoing a total of seven surgeries to remove all the cancer cells.
For most of those two years, Katie was bed-ridden with nausea and fatigue. Two of the few things that her stomach could tolerate were cheese plates and chocolate. She gained 50 pounds and lost most of her muscle mass. Katie made an attempt at exercising, but swimming made her nauseous and the pounding of running brought on headaches. It was 2002, and her triathlete dreams seemed like they were over.
Katie would endure another seven years of doctor visits, treatments and brain scans to ensure that the cancer hadn't returned.
Courage and Determination Win Out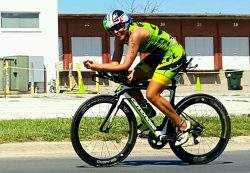 But in 2010, aged 29, newly married, living in Los Angeles and working 80 hours a week in a corporate job, Katie felt recovered enough to decide it was time to get back in shape. She started swimming again—some easy laps on her own at first until she was fit enough to join a local swim team—and she bought a used bike from a friend. She had her eye on a local race in Malibu, and the following summer she made her return to triathlon, crossing the finish line in first place in the 2011 Malibu Triathlon. By the following year, she was 20th in the world in the 30-34 age group at the 70.3 Half Ironman World Championships. After a break of more than a decade from the sport, Katie was finally back.
After World's in 2012, she cut back on her demanding work week, invested in a triathlon coach, and went on to finish 7th at the 2013 70.3 World Championships. In 2014, she missed World's after fracturing her ankle, but instead of feeling sorry for herself, she started thinking about a loftier goal: competing in a full Ironman the following year.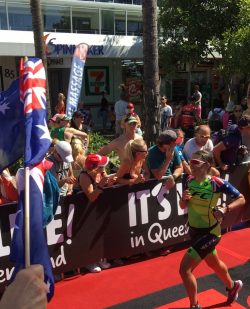 Sure enough, in 2015, Katie entered her first Ironman in Coeur d'Alene, Idaho, and not only finished the 2.4 mile swim, 112 mile bike and 26.2 mile run, but came in third, which qualified her for the Ironman World Championships in Kona that October, where she had another strong showing, crossing the line in 12 hours and 12 minutes.
Katie continued to show that she has yet to reach her peak in triathlon. In May 2016 she finished first in the 35-39 age group at the North American 70.3 Championships in St George, Utah, and four months later came in 8th at the World 70.3 Championships in Australia.
Outside of triathlon, Katie now coaches a youth swim team at the YMCA in Encinitas, California, and enjoys motivating young athletes and making sport a fun part of their lives.
Sport has taught her that hard work and perseverance can overcome big obstacles and she tries to instill this in her young athletes as well. Work hard, stay focused, and keep looking forward!
Reading Suggestions:
© Copyright 2017-2022 by Take The Magic Step®. All Rights Reserved.
Article Archive