Bob: "I Was a Regular Runner Who Took It to the Next Level!"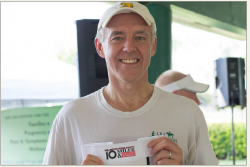 Prior to entering the Take The Magic Step program, I was a dedicated runner but had high cholesterol and was experiencing stagnant performance and chronic pain in my calves.
The advice given me by Uta and Dieter about nutrition, training regimes and stretching totally revamped my health as well as my approach to the sport! Now I am off my cholesterol medication, the calf pain is gone, and I'm running well enough to finish on the podium for my age group in many of my races.
I credit my breakthrough to their innovative Take The Magic Step program. I'm amazed at how much a regular guy like me has been able to benefit from Uta's experience as a world-class marathoner and from Dieter's expertise in training professional athletes.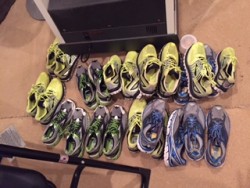 For me, running is a peaceful start to my day in the financial sector. I'm generally running during the week before the sun comes up in an office area with no one around. It's a great time to let your mind drift around.
On the weekend I run on A1A—a beautiful road along the Ocean in South Florida—and see all my running friends. We compare results, discuss our next races, and shoot the breeze about our favorite sport.
And running has become a family affair. My high school son now runs and I am so proud that he just came in first in his age group in a 10K. We don't get to train together very often, but when we do, it just makes it that much more special.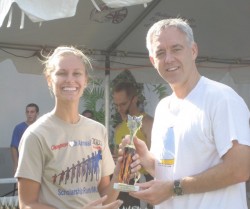 Before this year's Boston Marathon, I developed lumps in my heels, and to relieve the pain I had to improvise by cutting the backs of my running shoes. It made my training more challenging, but I was happy that I eventually finished with a decent time. I've now had EPAT treatments, which are relieving the pain in my heels—and I'm looking forward to my best time ever next year (2017) in Boston!
I ran Boston for the first time in 1982 on a business school entry at age 24. And then after years of losing speed and performance due to age, I started following Uta's advice. Boy did it work. I qualified for Boston 34 years after my first run and, believe it or not, I'm running nearly identical times to my glory days.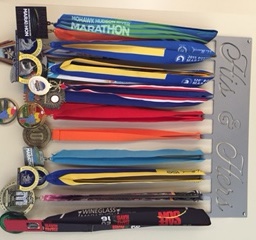 Boston 1982 3:31:26
Boston 2015 3:33:26
Boston 2016 3:32:13
My best race was in the Mohawk Marathon in October 2015. I ran 3:24:56 and came in 4th in my age group.
While I might never win Boston 🙂 I enjoy—and benefit greatly—from listening to the advice of those who have! Always a great race, a great time, and great people and fellow runners!
Bob
© Copyright 2009-2022 by Take The Magic Step®. All Rights Reserved.
Article Archive