The Road to Eugene: Sara Hall Interviews Before Her Big Race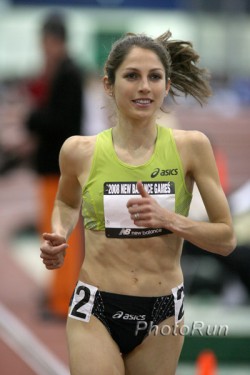 American distance runner Sara Hall is heading to the U.S. Track and Field Outdoor Championships in Eugene, Oregon [June 25th – June 28th] with the dream of making the U.S. team for the IAAF World Championships in Berlin this summer. On Friday night, she will be running in one of the most important and competitive races of her career: the 5,000 meter final. Facing the likes of third place Boston Marathon finisher Kara Goucher and Olympic bronze medalist Shalane Flanagan, Sara knows she will have to place in the top three in order to represent her country this August in Berlin.
26 year-old Sara is no stranger to tough races. At Stanford University, she was a three-time NCAA runner-up on the track and a seven-time All American. In 2003, she placed third in the NCAA Cross-Country Championships, leading her team to a title.
Her professional running career has been equally impressive. In 2006, she won her first U.S. title at the CVS/Pharmacy Downtown 5K championships in Providence, Rhode Island. That same year, she was crowned champion at the prestigious Fifth Avenue Mile in New York City.
Sara is married to Ryan Hall, the American half-marathon record holder and third-place finisher in this year's Boston Marathon The two live and train with Team Running USA which is headquartered in Mammoth Lakes, California.
Both Sara and Ryan are active philanthropists and spend a great deal of their time volunteering with the Team World Vision charity. Take The Magic Step® spoke with a confident Sara days before she took on the 5,000m challenge, possibly the biggest race of her career so far.
How do you feel going into the U.S. Nationals?
Sara Hall: I'm feeling really good. I just finished my last harder effort this morning. It went really well and my body is feeling great. So I think I am getting ready at the right time. I've been training with Jen Rhines who I'm running the 5,000m with, as well as Anna Willard and Amy Hastings. Anna's running the steeplechase and Amy is running the 10,000m. Depending on the workout, we've been mixing in training with each other.
As you have prepared for the 5,000m, which workout do you consider to be your favorite?
Sara: I have found the all-out speed workouts to be the best. I get the most for my 5,000m training out of mile repeats. The speed workouts really make you challenge yourself. I like comparing myself to how I was last year as far as my maximum speed is concerned.
Who do you see as your biggest competitors in Eugene?
Sara: It's going to be a really competitive race. It's hard to know who is actually going to be running the race and of those running it, who will actually run at the world championships. Sometimes people run nationals but don't race at worlds. That could be the case with Shalane Flanagan, Jenny [Barringer], or Kara Goucher. Those three will definitely be up there. Jen Rhines will be as well. It's going to be really tough competition, but I feel really prepared and am confident I will do well if I run smart.
You are married to another world-class athlete. Obviously you and Ryan have shared memorable running moments. Which one is the most special to you?
Sara: I think back to our junior year in college at the NCAA Cross Country Championships in Iowa. The previous two years, we had both struggled. But that year, he was second and I was third. These were breakthrough races for us. It was really exciting cooling down together. We had definitely been through the ups and downs together before that year. To be able to share that with him was something I'll never forget.
Recently, have you trained with Ryan?
Sara: Yes. We do a lot of our easy runs and secondary runs together. As far as workouts, even this morning, he was doing 200s [200m repeats] while I was doing some speed stuff, so we were trying to coordinate with each other. Obviously, we don't do the bulk of our workouts together. During my mile repeat workout, it was really important, because he came out there and paced me on it. It was really helpful. It's really fun together.
Do you ever exchange running wisdom or lessons learned from races with each other?
Sara: Definitely. The physical side of things, we have pretty down pat now. But the mental side, the race preparation and strategy, we help each other out. Even last night he was really encouraging me. He is a friendly shoulder that I can bounce my feelings off of. He listens to my thoughts before a race. He gives me a lot of help since he's raced so well the past few years.
Are there any relationship challenges to being married to a fellow world-class athlete?
Sara: What makes things challenging is that he really thrives training at altitude and I like training at sea level, so that's something we've been working on. I try to stay at altitude as long as I can and then when I return to sea level, we try to manage how long we can be apart. Over the past couple years, that's been something we've been working on. This year, we found a lot better balance with that. Also, our different schedules are challenging. He gets ready in the fall and the spring (for marathons) and I am racing in the middle of winter through the summer. We have a hard time obviously finding a time where we can both take vacation. It's difficult for him to spend a lot of time in Europe in the summer when I am over there racing. For the most part, it's a huge blessing to spend so much time together during the day versus one of us having a 9 to 5 job and being gone a lot. We get to run together which is what we love doing. We get to hang out together during the day. That's our huge blessing.
Will Ryan be there in Eugene cheering you on?
Sara: Yes.
At the press conference after the Boston Marathon, Ryan mentioned a charity that you guys both are involved with: Team World Vision. He recalled his time spent in Africa and how that affected him. Were you with him on the trip?
Sara: I was. We went to Zambia last October. It was an incredible experience to be over there. Going over to Africa, I was preparing to see utter devastation and total poverty. We did see a lot of poverty. We went to the Team World Vision site to see their work and how they go about their project. What was really neat is that the people didn't have much, but they were so joyful. Their basic needs were being taken care of. They had enough food and water. What Team World Vision does is bring those basic needs—specifically, water—to Africa. It allows them to be healthy. Overall, it was really amazing.
Besides running, is there any other sport that you like to compete in?
Sara: I love soccer. I grew up playing it when I was five years old. I don't compete in that, because of the potential for injury. Ryan and I like to do competitive things that aren't too physical like playing games or the Wii.
Which Wii game is your favorite one?
Sara: The Beijing Olympics track and field game is my favorite. You have to be careful though, because you can get tired pumping your arms so fast.
So is that your cross training workout for the week?
Sara: [laughing.] Yeah, it pretty much is!
As an elite athlete, do you feel like you are a role model? And if you do, what advice to you have for someone who isn't necessarily training to win a race, but rather to finish one or to run one as fast as possible?
Sara: I like to hope that I am a role model. That's why I try to run at the level I do. You know, winning times are going to come and go, but the impact you can have on other people is lasting. We'd like to make an impact on the sport and leave it for the better. We are working on starting a foundation in the next year and we want to see what kind of legacy we will leave. As far as advice for other people, I would tell them to just be the best "you" that you can be. A lot of times in the professional realm, it's easy to compare and try to run like someone else. Really, I feel the most fulfilled when I'm using the strengths that I have. If you are in tune with what makes you tick, you will be the happiest and most successful.
© Copyright 2009-2022 by Take The Magic Step®. All Rights Reserved.
Article Archive