She's Back! Chicago-Bound Deena Kastor Talks About Her Next Marathon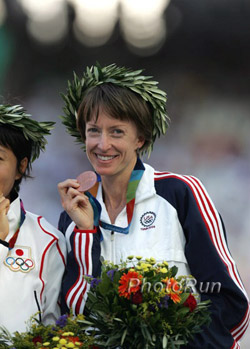 Deena Kastor is the fastest female marathoner to come out of the United States. She won the Chicago Marathon in 2005 and the London Marathon in 2006. With her London time of 2:19:36 hours, she broke her own American record, and is currently the fifth-fastest woman to have ever run a marathon.
Deena doesn't just win marathons. She owns four other American distance records, ranging from the half-marathon to the road 5K. In the 2004 Olympics in Athens, she won the bronze medal in a race that she considers to be one of the most special moments of her life. Her 3rd place was only the second time in history that an American woman had won an Olympic marathon medal.
Despite all these successes, Deena, now 36, has also had some challenges along the way. As recently as the 2008 Olympics, she was forced to drop out of the marathon at the 5K-point due to a broken foot. Since that time, she has been launching a comeback. At the Bay to Breakers road race in San Francisco this past May, she placed third overall, despite a nine-week break due to her foot injury. She has recently announced that she will be running the Chicago Marathon in October.
Take The Magic Step® spoke with Kastor in Mammoth Lakes, California, where she lives with her husband, Andrew.
How is your training going as you prepare yourself for Chicago?
Deena Kastor: I had a little scare with my foot in the month of June that had me taking a few months off. The past three weeks, I've gotten in some great training. Last weekend, I ran the New York Half-Marathon and that didn't go so well. If my training had been going well, I wouldn't have been so happy with it. I was thrilled that I came out of it with my foot feeling great, although my performance wasn't spectacular. It's been one week since the race and it's been my first week of all running and no cross training so it's another step in the right direction. I don't have a lot of time to get ready for Chicago so everything's going to have to go off perfectly for me to pull off being in the shape that I want to be in. My goal is to win the race and I typically get in shape fast and now it seems my body is able to handle the workload that I want it to. It's coming around at the right time. I feel like I have the perfect amount of time to get ready for this as long as everything goes smoothly from here on out.
Why have you decided to run Chicago and not another major marathon in the fall?
Deena: In 2005, Chicago was my first major marathon win which was really exciting. Plus, I raced well at the 8K, a road race that Bank of America also puts on in the spring. All of my races in Chicago have been great ones. I wanted my first marathon back after Beijing be in a place that has boded well for me in the past. I'm pretty excited about it. I ran my first race back there at the Shamrock Shuffle in March (an 8K road race) despite the sleet and snow that morning. It just holds a great place in my heart, because I've been so successful there.
You are coached by Terrence Mahon. He also happens to be Ryan Hall's coach, along with a lot of other top American talent. Is your time limited with him?
Deena: Terrence is very much a hands-on coach. He's over in Europe at the World Championships right now [Editor's note: The interview was conducted while the World Championships were taking place in Berlin.], because we have a couple athletes competing there. He's with me every step of the way. He tries to be all places at one time. If you look at his flight schedules, you can see that he manages to almost pull it off. For being such a young and new coach in this sport, he is such a wealth of knowledge—anything from training to recovery. He is such a great healer and we benefit from his skills. It's just a testament how well we do under him. He just knows the right thing to say to each athlete. He's a great guide who helps us physically and psychologically. We all have individual training schedules, but work together in fulfilling our goals. He's got a great talent at working with us as individuals, but at the same time making us feel like a great team.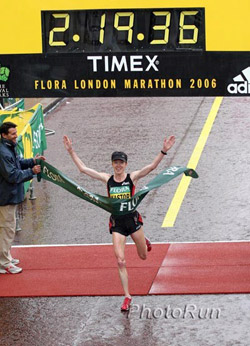 You've had a lot of magical moments in your career. Which would you consider the most special?
Deena: Gosh, I would say the bronze medal at the 2004 Olympics in Athens and also my Chicago and London Marathon wins. All three were equally special in the sense that I reached my ultimate goal thanks to an enormous group effort. I think that is definitely what I pride myself on the most—the team that surrounds me. I have my coach, who I think is the best in the world. I have teammates who have been nothing but supportive. My family has been generous and encouraging by being there in all my big races. I definitely feel that my greatest strength is my support team. In the marathon, when you put in so much work in the months leading up to it and you're able to reach that goal on that given day, it's really my gift back to them.
So would you say that the classic stereotype about running being a solitary sport is not true in your case?
Deena: I've never felt solitude in this sport. As a matter fact, I was a very solitary child and long-distance running brought me out of that. It's definitely a team sport. You can't go the distance alone. The people who are successful are the ones with the best team. In Athens, going so many months for a medal and in Chicago getting my first big marathon win, to lowering the American record in London from a woman who I admire so much in this sport, Joan Benoit Samuelson: All three were equally special, because I put a goal out there and then the team surrounded me in order to accomplish it.
You are one of the fastest marathoners in the world and when you race, you are up against the very best. How to you deal with pre-race fear?
Deena: The only time that warrants fear is being unprepared for something. I guess that's why distance running hooks so many people, because you get a sense of accomplishment every day. The most important thing is putting in the work on every given day. If you can put that together then you shouldn't be afraid on the starting line. I really don't believe in fear; I believe in putting in the work. Sometimes things happen that are out of your control. Those things you should use to learn from and grow from. There's no doubt I've had those moments in my career.
At the World Cross Country Championships in Portugal in 2000, you got stung by a bee in the first 100 meters of the race, didn't drop out, and still managed to finish 12th on the long course. Is there anything you've learned through the years to be this kind of tough runner?
Deena: In Portugal I knew we had a strong team and I told the girls beforehand that when the going gets tough out there and you don't feel like being able to push anymore, think of your teammates. We are all relying on each other out there. Don't give up on yourself, because you would be giving up on your team. So when I got stung by the bee and my throat was closing up, there was nothing more I wanted to do than to drop out. I started to panic a little bit. But I remembered that I had just given this pep talk and the last thing I was going to do was drop out! I remember passing out on the course and then bouncing back to try to chase down the lead pack. It was such a low point, finishing that race, because I thought I could medal that day and I got a place that I wasn't very proud of. As I was sitting there with my head down, and the medical staff was around me, one of my coaches came by and told me that our team had medaled. It really made me realize how much it is a team sport. It was definitely a learning experience because the going did get tough and something good can come out of pushing your limits.
Is it true that you are a really good cook?
Deena [laughs]: Funny you say that! I am in the middle of making a housewarming gift for Ryan and Sara Hall. They just bought a new house. It's graham crackers and marshmallows from scratch. It's a smores basket for them. Marshmallows are a pretty dirty job to do during an interview. I have marshmallow all over the phone. It's fun. I love giving a gift from the kitchen—just putting my heart into something and sharing it with others.
Many readers of Take The Magic Step® are first-time marathoners or folks who are just taking their first "steps" on the roads and trails, and discovering the fulfillment of running. What advice can you impart to someone who is just starting out?
Deena: Every time I'm talking with newly hooked runners, I congratulate them for making such a positive choice, not just in joining our sport, but for their entire lifestyle. Every minute that you are out there running, you are healthier than you were before. The running community is a unique community of people where, on any given start line, you can be next to elite runners trying to break records to first-time marathoners, yet we are all out there doing pretty much the same thing. We all have similar journeys trying to mentally overcome aches and pains. Once you figure out how to that, you can pretty much tackle anything.
© Copyright 2009-2022 by Take The Magic Step®. All Rights Reserved.
Article Archive