Ryan Hall Interviews with Take The Magic Step Before His Big Boston Debut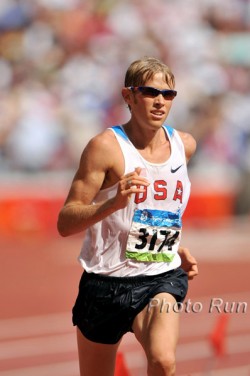 His skinny legs and long, relaxed stride have earned him an international nickname of admiration: "the white Kenyan." And he holds world class times of the Kenyans too—having run a 2:06:17 hours marathon and the 15th fastest half-marathon ever. He's Ryan Hall from Big Bear Lake, California. Ryan's running career started when he ran cross country and track for his high school. His junior and senior years, he was the California State Cross Country Champion. From 2000-2004 Ryan attended college at the prestigious Stanford University, where, despite struggling with persistent injuries, he still put forth some incredible performances. He placed second at the 2003 NCAA Cross Country Championships. He also set a Stanford record, placing 1st in the 5000 meters at the 2004 NCAA Outdoor Championships.
Upon graduating from Stanford, Ryan turned pro. He began focusing on the longer events. At the 2007 Houston Half-Marathon, he shattered the American Half-Marathon record, running 59:43 minutes. His incredible streak continued when he placed 7th overall at the London Marathon. His time there, 2:08:24, was the fastest marathon debut by an American and the fastest marathon ever run by an American-born citizen. He won the 2008 U.S Olympic Trials Marathon in Central Park and placed in the top ten in the marathon at the 2008 Summer Olympics in Beijing.
Now 26 years old, Ryan currently lives and trains in Mammoth Lakes, California, and is coached by Terrence Mahon. He is married to fellow elite runner Sarah Bei-Hall. On April 20, Ryan will run in the Boston Marathon. An American man hasn't won Boston since 1983. Can the white Kenyan end that 26-year streak? Take The Magic Step writer Duncan Larkin spoke with Ryan as he sets his sights on Boston.
How has your training come along? Why did you and your coach choose the Publix Super Markets Gasparilla Distance Classic 15K Race as a tune up for Boston?
Ryan Hall: Training has been going very well. I have been training harder than I ever have for Boston. My coach and I chose to run Gasparilla as a tune up for a half in Amsterdam that I was slated to run. However, after seeing the course in Boston that same weekend we decided that we needed to nix the trip and focus on training on Boston-specific courses back in our hometown (Mammoth Lakes). I am glad we made the decision as I feel that Boston will require a very specific type of fitness.
Many readers of Take The Magic Step remember your strong performance at the U.S. Olympic Trials in Central Park last year. Would you consider that first-place showing your breakthrough event or was there another race?
Ryan: I feel that my biggest breakthrough race was my first half-marathon in Houston when I broke the hour barrier. After Houston, we knew that running sub 2:07 and even faster was possible in my future. I was pretty excited last spring when I ran 2:06:17 but I feel there is a lot more in the tank.
Who gave you the biggest inspiration to become a runner? Who is your role model?
Ryan: My biggest role model is my Dad. He was the one who first saw my gift to run and has encouraged me through the ups and downs. He has shown me what it looks like to be a man seeking God, which I believe is the most important thing to show someone. In terms of running heroes I have always looked up to Jim Ryun. He was a visionary runner that did things on the track that were before his time. I still think he is one of the greatest runners of all time. He inspires me to dream big and yet handle disappointments with grace and character. I have also gleaned so much from my training teammates Meb [Keflezighi] and Deena [Kastor]. They have been a huge part of my journey in the marathon—like a big brother and sister to me. They inspire me daily and show me how to prepare to run with the best runners in the world.
What is different in your training for Boston this year versus your previous training for the Trials or London?
Ryan: I would say that my training has been Boston-specific in that I have done considerably more downhill running, as well as hilly running. From what I have learned from those who are well seasoned at Boston is that you must be prepared for the downhills that beat on your quads mile after mile so we have practiced a lot with that. I have also increased the length of my tempo runs. You wouldn't believe how hard I have trained for Boston.
There have been several recent "Ryan Hall sightings" on the Boston course. Have you been out on the course?
Ryan: Yeah, I was out there for a couple of days. The day after Gasparilla I was able to preview the course, thanks to John Hancock for bringing me out there. I rode the first six miles in the car and then ran the last 20. It was a snowy cold day yet there were still hundreds of runners out there doing their long run on the course. I couldn't believe it. I felt like I was in the race. I must say I was starting to question my fitness when we were struggling to catch up to a group of women runners. When we finally did one of the women hung with us for five miles or so. Boston runners are fit. I am used to the costumed runners at London slogging through five hour marathons, not women doing long runs with me. I was impressed. Anyhow, it was very beneficial for my coach and me to see the course, and better yet to run it. It is much more challenging than it looked riding on the lead vehicle last year. It made us re-think the rest of our training leading up to Boston. One thing I like about the course is the spacing between the hills in Newton. I always thought they were much closer together but you get a nice little reprieve at the top of the hills. Even though I was only out there for a couple snowy days it was very helpful and inspiring to be there.
You have mentioned how much of a role your Christian faith plays in your running. As a Christian, you most likely hold from scripture that the "last shall be first and the first shall be last." Do you feel that there is a paradox where your faith teaches humility and putting others before yourself, but yet your sport/career demands that you as an individual win and shine in the spotlight? Other Christian world-class runners have wrestled with that paradox. Have you?
Ryan: I like it when I am asked well thought out questions like this one. I have thought a lot about the paradox of competing as a Christian. My current thinking is that I have a very hard time picturing Jesus competing to beat others and comparing himself to others. With that said, I also believe that Jesus, if running the Boston marathon, would push himself harder than anyone ever has who has run that course before. I believe that Jesus wouldn't be out there to beat people but He would be out there worshiping God as He ran by doing his very best. I believe that it is all about the condition of your heart, which is why it is my goal to not run to beat people but rather to do what God has given me the gift to do to the very best of my ability as we are encouraged to do in Colossians 3:23. [Whatever you do, work at it with all your heart, as working for the Lord, not for men, 24since you know that you will receive an inheritance from the Lord as a reward. It is the Lord Christ you are serving.] With that said, I sometimes get caught up in times and comparing myself to others, but this is not what I strive for and what I enjoy about running.
The 1968 Boston Marathon Champion, Amby Burfoot, recently stated that the deck is much more stacked against you running Boston than it was for him when he won it 41 years ago due to the depth of the East Africans in the field. Is Boston that much harder for an American to win these days?
Ryan: It is very difficult to compare running from decade to decade as things naturally change. Amby was a great runner in his day. It obviously wasn't that easy for him to win Boston considering he was the only American to win Boston in the 60s. Is it going to be difficult to win, of course it will be, it always is. It was for Amby, it is for Robert [Robert Kipkoech Cheruiyot], it will be for me, but that is what makes it so special.
Will you race Boston differently than London or the Trials?
Ryan: That's a secret…just kidding. To be completely honest, I don't know how I am going to run Boston. It is going to depend on a lot of variables. Some things are outside my control, like the weather and competitors, and some things that I will have to feel out in my own body as I am out there covering the early miles and I am able to judge how I am feeling. I think it is better for me not to have a hard fast plan so I can be flexible when I am out there. With that said, I believe I am in shape to run the race a number of different ways.
What is the hardest element in your training that you think you need to focus on?
Ryan: I think the hardest thing for me to do in training is to find that perfect balance of training hard but not too hard. I sometimes get myself in trouble when I try and force something special to happen. I am learning to relax in my training and take the edge off some of my workouts, saving my home run swings for race day.
You are an incredible inspiration to so many runners who want to dream big. How does it feel to be this inspiration and what advice do you have for folks not as fast as yourself, but yet still dream big like you do?
Ryan: Thanks, that is a big compliment for me. A big part of why I run is to try and inspire others. I hope that I can inspire others to not only dream big but also to enjoy the journey. Things don't always work out the way we want them to, like in the Olympics for me. But that doesn't mean that we shouldn't celebrate the journey all the same. I am not a failure based on one day. It is about doing the best you can with whatever you have been given. That might mean not winning the Olympic gold but everyone can do their very best.
© Copyright 2009-2022 by Take The Magic Step®. All Rights Reserved.
Article Archive