Ryan Hall Hopes His Intimate Knowledge of the Boston Course Will Bring Victory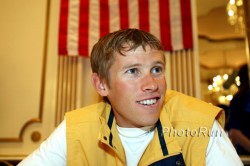 Few of the elite runners in the 114th Boston marathon will "know" the fabled course like American hope Ryan Hall.
And the second-fastest American marathoner of all time believes the intimate knowledge of the magical 26.2 miles of road he's acquired in the last three weeks will help him improve on last year's third place finish, he told Take The Magic Step® in a pre-race interview.
"After last year, I studied the guys who've done well here—and I realized that many of them either lived or trained in Boston," he said. "The great Bill Rogers is the classic example. I thought I knew about the course before last year's race—but I realized afterwards that I really didn't know it at all. And it's important because the course is so tactical. So I made a huge decision to come to Boston three weeks early and learn everything I could about it."
Already, he believes, the decision to leave the altitude of Mammoth, California, early is paying dividends. "I'm sure that now I know the course so well I'll know how to spend my energy better than I did last year," he said. "I've worked hard on the first 20 miles of the course, including a lot of intervals and tempo runs in the five miles between Wellesley and Newton because that's the most technical section."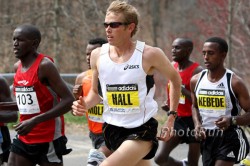 Last year Ryan pushed the pace early against a strong headwind until he fell behind eventual winner Deriba Merga of Ethiopia in the Newton Hills. But he battled back to finish in third place (2:09:40) behind Merga and Daniel Rono of Kenya and it was clearly a learning experience. "I'm confident that I know now how to do it differently in terms of pacing," he said. "Plus I've gained so much confidence from last year." He declined to give away his target time, but ventured that if the conditions are right, he could hit "2-and-0-whatever."
But there is one thing Ryan does know better than the Boston Marathon course!
An engaging smile lit up his face and he joked, "I wouldn't say I know every inch of the course-but I certainly know the location of every Dunkin' Donuts between Hopkinton and Boston!"
© Copyright 2010-2022 by Take The Magic Step®. All Rights Reserved.
Article Archive