Running's Rich History: An Interview with Roger Robinson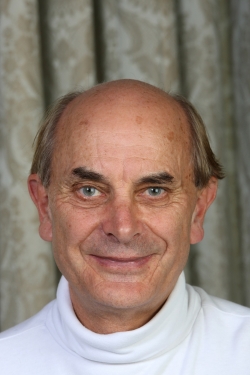 Roger Robinson has combined the career of distinguished academic with a passion that matches his talent for distance running. He has twice competed at the World Cross Country Championships, firstly for England in 1966 and then for New Zealand in 1977. Now professor emeritus of literature at Victoria University in New Zealand, his running career goes back to schooldays and then when reading English at Cambridge University while training alongside fellow undergraduates equally committed to the harrier ethos of distance running. This interview, which took place in the press room shortly after the finish of the 2008 London Marathon, offers strong insights into the development of running as a sport in the past 50 years, including the rise of the Africans, as well as the qualities required to be a successful competitor in the ultimate test: the Olympic Games.
When you were running as a student and then as a young academic, getting on to international cross country teams, Africans were there, but they were nothing like as dominant as they are now, right?
No. At one stage, when I used to watch athletics at White City [site of the 1908 London Olympics], the reputation of the African runners was that they would lead and then drop back, presumably because they hadn't trained. I'm talking now about the late 1940s and early 50s. The Africans were good sprinters, and so were those from the Caribbean, but when I was running seriously at Cambridge and in Surrey in the early 1960s, the runner who seemed to put world records beyond reach was Ron Clarke. And then he began to encounter the Africans when he was rather unexpectedly beaten by Naftali Temu [of Tanzania] in the Commonwealth Games of '66, and then ran up against Gammoudi of Tunisia in the Olympics. So the Africans had their moments. I can remember running the world cross country in Morocco, and it was won by El Ghazi, a Moroccan, so the Africans were there. And then in '77 when I ran the world cross country and finished in a state of absolute exhaustion, a black runner finished alongside me and we fell into each other's arms, and he was from the Sudan. I'd no idea who he was but we became instant friends, as you do when you've both raced your guts out in a hard race.
So the Africans were there, but not in the sense of the clean sweep that we so often get in the big city marathons, not only in London, but often in championships. What do you see as the reasons for this?
There are two ways of looking at it. One is to see that, for this particular activity of long-distance running, the world has discovered in the past 20 years a group of people who, because of their environmental and evolutionary factors of living in a running culture and living at altitude, are extraordinarily well-suited to it. I wrote about this once and said, Germans are good at music, the French are good at cycling, Brazilians are good at [soccer], but never before in history has a group of people from a relatively small area—that is the Rift Valley, the upper regions—never before has one group dominated what is an international activity. It's not as if running is a small activity—it's something at which the whole world contends. So in one way, it's very exciting because, suddenly, there's this incredible residue of talent emerging. People don't do this, but if this weekend, if you were to count the number of Kenyans, Ethiopians, Eritreans, Tanzanians, people from that area, who ran the Paris Marathon last week, London today, Boston next week, Rotterdam, you're probably going to come to something like 200 different individuals. It is something that is quite extraordinary and something that as a writer, I've tried to celebrate.
What are the reasons? Are they social, genetic? As a journalist who goes around and sees races, I'd say that for some non-African runners, they're beaten before they go to the start line, or at least beaten on the start line because they believe, "We can't beat the Africans."
Well, I said there were two ways of looking at this, and the first is that kind of celebratory way when, for me now as a journalist, meeting all these fascinating characters and obviously, for them, it's a mix of genetics and social ambition, it's a way for them to succeed when there are no other ways open to them, so they can buy farms, buy water and improve themselves. The other way of looking at it is the way spectators and some Western runners who say, "We haven't got a chance, these people are genetically better," and that has combined with trends in Western society that have moved away from the rigorous, not quite obsessive but dedication to a tough activity like running.
I've heard you say recently that a top-class runner needs a simple life and we, i.e., those outside of Africa, often have lives which are too cluttered.
They are cluttered, and our young people now have a lot of choices. I now live in New Zealand, and in New Zealand in the 1950s, 60s, if you were male, you played rugby in the winter, and if you weren't big enough for rugby, you ran, and that was it. And that is partly why, to put it very simply, New Zealand kept producing all these great runners, because for little skinny men like [1960 Olympic 5,000m gold medalist] Murray Halberg, there wasn't a lot of choice. These days they can go surfboarding, they can go snowboarding, they can go hang gliding, they can go mountain running, they can go mountain biking, and New Zealand is producing quality in all those things I've just mentioned. So when you look at the decline in New Zealand running, it's not just the Africans, it's internal factors as well.
From that, do you think we're not going to have a change in African dominance, except perhaps on the women's side, where there's less depth and you can have outstanding individuals like Paula Radcliffe and Deena Kastor?
I don't know that is necessarily so because nobody, 30 years ago, would have predicted African dominance. Nobody would have predicted that an event like the London Marathon would grow from a couple of thousand people to 40,000 or whatever it is and become the huge social phenomenon it is. Sport and culture are interacting in ways that we couldn't predict, I suppose because of the relative affluence that we've got and forces in society such as people wanting to work on their own health, wanting to do something for society such as raise funds for charity. Those were things that were not nearly so strong 30 years ago, and we couldn't predict those then.
I wouldn't despair. I think that within this exciting fun fest which is the marathon there is plenty of hope for the future. London is a good example—they put money into developing, not necessarily elite but groups of rising, competitive runners. So that's all good. It just needs to be better organized.
Let's talk about something which is definitely not a fun fest, and that is the Olympic Games, competition at the highest level. What's it like for these top people when they're at something like the Olympics or World Championships? I have the impression that it's different from even the atmosphere of a big-city marathon like London or New York.
They tend to live necessarily in a fairly enclosed world, and they know each other and they live closely with each other at these events. When I was at the world cross country or ran marathons such as New York as an elite master, it was a special, intense atmosphere that was quite hard to adjust to. I enjoyed it when I was older because then I had a little bit of detachment from it and knew also that I wasn't completely dependent on it. We heard the Russian women here say the other day, "Running is my job, my family depends upon me." That's a different kind of pressure. But remember that when you talk about the African dominance at the Olympics, the Olympic marathon has been won by Japanese and Italians most recently! So they can be beaten, and you could well have a couple of non-African winners in Paula Radcliffe and, say, Ryan Hall, for the sake of the argument, one of the non-African runners who is coming through.
When Paul Tergat broke the world marathon record in Berlin five years ago, he said he could foresee someone breaking 2:04. Do you think 50 years from now there might be a sub-2:00 marathon?
Remember that for many years the 4:00 mile was regarded as fantasy. Standards in the 10,000 are still improving. When I saw Ron Clarke break the world record for 6 miles at the White City in 1963, I think, we thought it was incredible. Now, Kenenisa Bekele and Haile Gebrselassie would win races and people like Clarke and Dave Bedford would be half a lap—half a lap!—behind. It's unthinkable how much improvement there has been. So maybe there's another half-minute improvement in the 10,000 sitting somewhere in Kenya or Ethiopia right now, and if that happens, you're getting very close to two hours [in the marathon], so I wouldn't want to say it's impossible. Of course, one of the paradoxes is that you look at the Africans and think, "If they all get well fed from childhood onwards, they'll get stronger." But our countries have all got better fed and we've all got slower and fatter, so high living standards are not necessarily the answer.
On the women's side in the marathon, you rightly point out that the last two Olympic races have been won by Japanese. What are they and the Chinese women doing in terms of their training groups? Is it different than what happens in Kenya and elsewhere in Africa?
It's what we used to be. "We" being England, New Zealand, America in the era of Frank Shorter. You're right, the group is a factor, you get that kind of school chemistry. The Japanese women are training 150-160 miles a week, and they bring in so many that, if you like, they can afford to burn some out. It's a kind of self-selecting system because those who come through that kind of regime are phenomenal because they've got so many miles behind them. That's what they're doing which on the whole is what western runners are now not doing. You talk to coaches and it's now very hard to get young runners to train as hard as we did, to go out twice a day, doing intervals, not doing intervals every day but capable of doing two or three interval sessions a week and a long run of two to three hours once a week which we took for granted, it was part of life.
Finally, when everybody gets on that start line for the men's and women's Olympic marathon in Beijing, no pacemakers, they're on that start line, is it really the marathon race above all other?
I have always distinguished between winners and champions. I remember writing about Carlos Lopes (Portugal – Olympic marathon champion, Los Angeles) when he won in 1984. I remember writing that Lopes is temperamentally a champion which means he's the man who can produce it on the day when it matters and that's true all the way through. In the days when I was bidding to get into the England cross-country team, the first nine across were the England cross-country team, that was it. I used to say there are 30 certainties and there always were, there were at least 30 certainties for those nine places. Well, 21 one of those would fall apart, would panic, would misjudge it in some way and fail to produce it on the day but those who didn't were those who produced it on that day. So that kind of system is obviously very attractive and even though the big money for some of the events like London or New York has drawn some of the firepower, nevertheless, the Olympics is still the currency that matters. Stefano Baldini [will always be known as] an Olympic champion, whereas Martin Lel isn't necessarily always going to be [known as] a London Marathon winner, even though he's won it three times.
The Olympics still has a magic to it, partly because it's only every four years and partly because it's like the great battle. It's the day when everybody decides, this is it, this is the day.
© Copyright 2008-2022 by Take The Magic Step®. All Rights Reserved.
Article Archive