Patrick Makau Talks About How to Break the World Record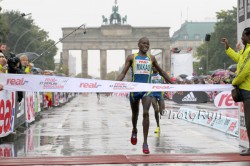 In 2010, Patrick Makau won both the Rotterdam and Berlin Marathons. The 25-year-old Kenyan ran the fastest marathon in the world in the Netherlands with 2:04:48. He also clocked a "rain record" in the German capital, achieving the fastest performance ever by a marathoner in a race beset by constant downpours: 2:05:08 hours. Take The Magic Step® spoke with Patrick who is married and has a two-year-old daughter.
You said after the Berlin Marathon that this was the best race of your career. Would it be possible to estimate how much time you lost because of the rain and if you'd had better weather conditions?
Patrick Makau: I think the rain cost me about a minute and a half.
That would have been a world record.
Patrick: Yes—but quite apart from that I am delighted to have won in Berlin. It's one of the most important marathons in the world. Achieving that in such conditions was a great performance. I think I showed in Rotterdam and then again in Berlin that I'm a really good marathon runner. I believe that one day it could be possible to break the world record. But you should remember that most of the runners—Paul Tergat and Haile Gebrselassie, for example—who have broken the world record were over 30 years old when they did it. They needed several marathons before they achieved their best time. I need to get more experience before I can make another attempt on the world record. I think I need one or two more marathons. I have to improve my training before I feel I'm ready for a world record attempt.
In addition to the rain and that cold water splashing from the puddles, you also had a problem with your socks.
Patrick: Yes, that's right. My wife had packed my bag and given me socks which were too small. I only noticed this on race day. Even as we were on our way to the start, I had a feeling that this would be a problem. After just 100 meters of the race the socks began to ruck up. By the end they were half out of the shoe. But I just kept running since they weren't a really serious problem. But mentally it wasn't easy because during the first 20K I kept thinking over and over again, what I would do if it became worse. If I'd had to I would have stopped, taken the socks off, and continued running without them. Fortunately it never came to that.
You've been running internationally for only four years and you've been in a few situations where things haven't exactly gone smoothly. You ran your first race in Europe at the beginning of 2006, a half marathon in Tarsus, Turkey. You missed the start …
Patrick: I was completely inexperienced then, had no manager and no one to guide me. When the race began I was well away from the start line, at least 200 meters. Suddenly I heard the starting gun. Everyone in front set off and I was standing in the midst of the mass of runners. I had to overtake them all, threading my way through, and then make up the gap to the front runners. But I made it in the end.
That wasn't the only incident …
Patrick: When I finally found myself in the leading group, one of my shoelaces came undone. Before the race I'd been given new running shoes by a friend. So I stopped, tied the lace and ran back to the front. But then the other shoelace came undone so I thought, let's see if I can run with the laces undone. It was fine.
You won the race in Turkey and also the Berlin 25K in 2006, although just before the finish in Berlin's Olympic stadium you took the wrong direction.
Patrick: In the Olympic stadium you have to run to the finish in the opposite direction to normal. I wasn't used to that, so I automatically turned right when I entered the stadium. In fact, it would have been no big deal but I had no one advising me at that time. Zane Branson has been my manager since 2008 and since then I've had no problems—apart from the socks.
Most runners would have given up in your position in that race in Turkey but you didn't. Where does this enormous willpower come from?
Patrick: Perhaps others would have given up in that situation. But you must be mentally strong all the time. I developed this willpower in Kenya. There you are always training in a big group and you have to assert yourself and be strong the whole time. It's very hard but it's the only way. Anyone who can't, won't be able to survive and will fail. If you are mentally tough, you can run well in a group in competition.
Is it true that other runners suddenly didn't want to give you a lift in their cars to training after your first international successes?
Patrick: Yes, a runner who used to give me a lift stopped doing it all of a sudden. So I bought myself a car and now I have three. I always give other runners a lift.
Did you think when you were a boy that you'd be a runner?
Patrick: Although I'd heard about the Kenyan runners as a child, I never thought then that one day I'd be a world class runner. I didn't run much as a child. My parents were farmers and I grew up in Manyanzaani Tala, 40 kilometers from Nairobi. That's where I live to this day. The first school I went to was close by but then that changed when I went to a different school. I was ten and for the next three years the route to school was eight kilometers. Since I went home for lunch, I was running 32 kilometers daily.
When did you begin to train seriously?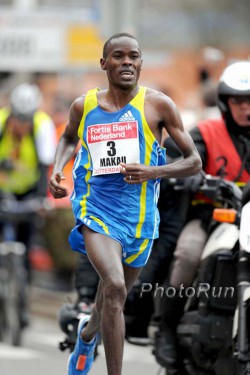 Patrick: I only really became interested in running in secondary school when I was 18. I competed at national level and had success. It was my ambition to have a better life. I saw how much money there was in road running. The former Chicago Marathon champion, Patrick Ivuti, and the 2005 Rotterdam winner, Jimmy Muindi, lived in the same area. I saw how their families benefited from their success. I heard their names on the radio and read about them in newspapers—I wanted to be like them. However, I didn't concentrate on running till 2004 when I had finished school.
I've heard that Jimmy Muindi helped you to become a serious runner.
Patrick: Yes, Jimmy saw me running at a school competition in 2004 and offered to help. He showed me the best way to train and how I could improve. Paul Tergat was also an inspiration for me. He also lived nearby and we still train together sometimes. I hope that one day I can be as successful as Paul.
Does anyone else in your family run?
Patrick: No, I'm the only runner in the family. I have three younger and one older brother and a younger sister but none of them run.
You have been able to help your family thanks to your success.
Patrick: I had a house built for my parents and bought them a coffee plantation. I have built up a real estate business for myself. I rent out houses and am having some others built.
Many leading marathon runners came to road running from track races. Why aren't you a track runner?
Patrick: I soon realized that I was especially suited to the half marathon. So I concentrated on that and have run only the occasional track race.
What's a typical hard training day like when you're in the middle of preparing for a marathon?
Patrick: I get up at 5:30 am and first of all prepare some water bottles. Then I meet friends for training and we drive about 15 kilometers to where we train. Depending on the schedule, we choose flat or hilly courses at around 2,000 meters high altitude. Once a week we do a long run of between 30 and 38 kilometers. We do that in around 3 minutes per kilometer. By 9:30 am I'm back home, drink tea, and have a light breakfast. I rest for an hour and then meet friends or attend to my real estate business. We eat at midday and if there's no long run scheduled in the morning, we do a second, shorter run. Around 7:30 pm I eat with my family and go to bed after that.
How do you get your motivation for hard training?
Patrick: In my early days, I learned a lot by watching the great Kenyan runners. I wanted so much to be like them. I now have big ambitions which are my motivation: Olympic Games, World Championships, and world records. I believe I can break the world record in the half marathon.
You've done five races in Berlin and won each time. Is it your favorite place to race?
Patrick: Yes. Whenever I've run there, I've won. This time the weather wasn't so great but the people along the course still gave us wonderful encouragement. I love Berlin and that's why I decided even before the race to spend another week there after it was over. I wanted to see the city for myself—all the sights, the Zoo, and the Olympic stadium.
And in Berlin of all places you had Kenya's Prime Minister [Raila Odinga] waiting for you on the finish line. He was on a private visit to Germany and held the winning tape.
Patrick: That was a great moment for me. In Kenya I live only about two kilometers from Raila Odinga's home. Despite that, I've never met him. I was delighted that this should happen at last at the finish line in Berlin. He congratulated me.
What does running mean for you? What place does the sport have in your life?
Patrick: Running is very, very important in my life now, of course. When I'm older, perhaps that won't be the case. I'll certainly run but I shan't be able to run so fast. Now I have to concentrate completely on running.
Can you imagine that your great victories are inspiring and motivating other, younger Kenyan runners and that they regard you as a role model?
Patrick: Yes, I'm sure of it. Many of them look up to me and want to be like me. I'm helping young athletes who train with me sometimes. Most of them are 21, 22 and want to try their chances in running.
So there are many more Patrick Makaus in Kenya?
Patrick: Yes, definitely.
What do you think will be possible in the marathon in the future? Will the two-hour barrier be broken one day?
Patrick: When I see how things are developing in Kenya and so much young running talent which is getting stronger all the time, I hope that one day we'll see a time under two hours. It will be some time yet, but I do believe that time will come.
© Copyright 2010-2022 by Take The Magic Step®. All Rights Reserved.
Article Archive