On the Eve of the Berlin Marathon, Uta Recalls How This Special Race Changed History—and Her Life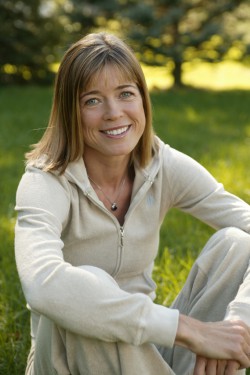 Uta Pippig thrilled us with a whole series of marathon victories in the 1990s. The likeable and popular runner was ranked number one in the world for the classic 26.2-mile distance in 1994 and 1995. She had grown up in East Germany but moved to Stuttgart, in the West, in the aftermath of the fall of the Berlin Wall. She returned to her home town of Berlin in the summer of 1990—and made headlines around the world by winning the first Berlin Marathon that followed a route through the historic Brandenburg Gate from West to East. Uta, who ran wearing the vest of the race organizers, Sports Club Charlottenburg ("SCC"), repeated her triumph in 1992 and '95—a feat so far not surpassed in what is Germany's most prestigious marathon. Only Poland's Renata Kokowska has equaled her trio of victories.
In 1993 she became the only German woman to win the legendary New York City Marathon—and followed that victory just months later with a sensational win in the 1994 Boston Marathon. The new course record she set—2:21:45—made her the third fastest woman marathoner in the world at that time. She went on to win Boston again in 1995 and completed an amazing hat-trick in 1996, the 100th edition of the Boston Marathon, in one of the most dramatic women's races ever.
Uta was twice invited to the White House by President Bill Clinton following her Boston triumphs—even enjoying a jog with him in a Washington D.C. park. These days Uta lives in Boulder, Colorado, and runs "Take The Magic Step," the organization she founded with the goal of encouraging people to pursue a healthier lifestyle and find increased wellbeing through education, inspiration, and fitness. Through her Take The Magic Step Foundation, she also is active in charities, especially those in support of underprivileged children and women.
Uta will be Guest of Honor when she returns to Berlin this month for the 40th edition of the BMW Berlin Marathon. We interviewed the 48-year-old in the build-up to the race:
23 years ago you won the Berlin Marathon that was allowed to run through both East and West sections of the city for the first time—heralding the historic Reunification of East and West Germany just three days later. What memories do you have of this race?
Uta: This race was an extraordinary experience for so many people. I remember, in particular, their boundless happiness, also the relief and tears of joy from many since we now would live without the Berlin Wall. We could just run through it and felt free. It was a marathon which gave me goose bumps, especially when I ran with my friends and all my fellow marathoners through the Brandenburg Gate three days before the 'Reunification Day' into a happy and exciting future. It was a moving time for so many people, a time which has shaped and united us.
The beginning of the 1990s saw your rise to the top of the marathon world with victories in New York and Boston. Which was your greatest race and which was your most satisfying?
Uta: The emotional 1990 Berlin Marathon, participating in it with many running friends from East and West and the 100th edition of the Boston Marathon in 1996 were both incredibly exciting races for me, personally. As a former East German, being able to run through the Brandenburg Gate and then win the race was a very moving experience. I wouldn't have dared to dream of doing it twelve months earlier. From the performance aspect, I would have to say my most memorable race was the 1996 Boston Marathon. I had never been better prepared for a marathon, yet after just a few kilometers I started to have stomach problems and then diarrhea not much later. At the time I was far behind the Kenyan Tegla Loroupe but I managed to catch her after a long chase and won. I have so many memories from that race.
You won Berlin on two more occasions, in 1992 and 1995. What was special about the Berlin Marathon and do you have particular memories of those races?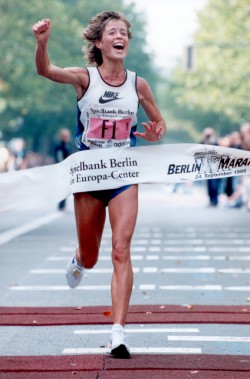 Uta: Yes, definitely. Above all, there was the great atmosphere. The Berlin fans are simply wonderful. The way people appreciate and love the marathon means a lot to me. The interest worldwide in the race is impressive and the organization is one of a kind. At that time, the course still ran from the Avenue of June 17 towards the Brandenburg Gate, then in a loop through the eastern part of the city and later very close to my home in Steglitz, across the Wilder Eber (where the atmosphere really was wild), and then to the finish on the Kurfürstendamm. Then as now, the Berlin Marathon follows a course that is rich in history through our lovely city.
I also fondly remember so many happy faces and the shouts of encouragement which gave us such a lift, and carried us across the finish line. One thing I especially remember: we always went off too fast at the start because the Brandenburg Gate came up after about three kilometers into the race and everyone wanted to be the first to run through it. In terms of race tactics, that was not a good idea, and it would have been easier for me to run the course as they have it today. But there is nothing better than a finishing sprint through the Brandenburg Gate!
You go to many of the big U.S. road races, for example the Boston Marathon. What differences are there between these races and those in Germany?
Uta: That is easy to answer: There no longer is any difference. The way it was in the beginning of the 90's has changed completely. Back then, road running was already more established in the U.S., while after Germany's Reunification, road running was still opening up to its newly found freedom. Today the enthusiasm is exactly the same here and there, and the tragic events at the Boston Marathon this spring, have drawn us even closer together. In both countries the runners love their races, the organizers ensure everything goes as smoothly as possible, and there are so many excellent and interesting events to take part in or just watch. If I have to compare the Boston and Berlin Marathons, then I can say with complete conviction that both races are among my favorites. The organization, the enthusiasm of spectators, the way the elite runners and the thousands who just love running come together make for an atmosphere that is simply thrilling.
You have lived in the U.S. for many years. How do you spend your time these days?
Uta: The focus of my activities is working for my Take The Magic Step Foundation and especially supporting our charity partners. We have a special interest in helping underprivileged children and women. Within this charitable work I also advise and coach runners in the "Hoyt Foundation"—headed by the inspirational wheelchair racing, father-and-son duo of Dick and Rick Hoyt—when they prepare for the Boston Marathon each year. I also pass on training advice to some runners in the BMW Berlin Marathon to help in their preparation.
My history-inspired speaking series, "Running To Freedom™," which focuses on the values of freedom and how it relates to the audience and their personal hopes and goals, is a current project about which I am very passionate as well.
Alongside the foundation and "Running To Freedom," I work on the Take The Magic Step program. Take The Magic Step stands for the first step of the journey, the first step out the door. Our mission is to help people achieve a greater sense of wellbeing through inspiration, education, and changes to their lifestyle. Our goal is to inspire them with the concept of mental, physical, and emotional fitness—all accomplished one small step at a time. Running, of course, has a special part in this. We share all this information on my website: www.TakeTheMagicStep.com.
Your own personal history plays a part in "Running To Freedom™," doesn't it?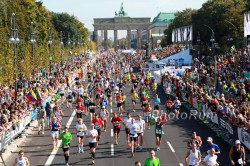 Uta: Absolutely. "Running To Freedom™" uses many aspects of my own journey to freedom from East Germany to the West as a framework of inspiration. It brings back a time filled with many valuable personal experiences and deep emotions that have influenced my life right up to the present day. I want to share these experiences with others so they can benefit from them and have incorporated them as cornerstones of my speaking series.
In "Running To Freedom," together we explore the value our freedom has for society as well as for the individual in creating positive change, and what this can mean to one's future wellbeing and happiness. Furthermore, it is about the desire for change, striving for fulfillment, and how you can find the necessary inspiration to achieve personal goals, and be the best you can be.
I recently had the chance to share some aspects of "Running To Freedom" with Madeleine Albright, the former U.S. Secretary of State, who comes from what used to be Czechoslovakia. I met her at the Aspen Ideas Festival in Colorado this summer. Our discussion also included in this context the tragic events at this year's Boston Marathon. I am happy the response to my speaking series from my friends in Germany also has been very good. That moves me greatly.
What other links do you have with Germany?
Uta: Very caring and happy ones. There is a wonderful children's charity, which we support through our foundation, and this means a great deal to me: The "Kinderhilfe" in Petershagen-Eggersdorf, my childhood home town near Berlin where my parents also live. Kinderhilfe supports underprivileged kids and also organizes summer holiday camps for the children of the victims of Chernobyl.
And for many years I have been working with my loving Take The Magic Step team, some of them live in Berlin and the Rhineland Palatinate. They are my family and I owe them my deepest gratitude for supporting me in my ideas, ambitions, and projects regarding the foundation and organization.
I still have close connections to home, my family, friends, fans, and all the wonderful trails I like to run on. I love being in Berlin and, like everyone else, I am looking forward so much to the upcoming 40th Berlin Marathon celebration.
How much do you run yourself these days?
Uta: Not as much as I would like to. I had surgery on my right hamstring last year and a serious bike accident two years before that, neither from which I have yet to fully recover. There was a long rehabilitation before I could continue some easy running. These days, I can run better but need to be very careful because the combination of the two injuries has made healing challenging. I need more time to strengthen all the muscles and tendons in my leg and lower back. At present, I am combining running with swimming, cycling, yoga, and strengthening exercises. I jog 10 kilometers, a couple of times per week and a little longer on a good day. If I have an exceptionally happy training day, I can run the entire distance comfortably, with maybe one stop to stretch lightly to stay aligned and comfortable—so I'm slowly getting back in shape. And I am looking forward to participating in more running and biking events for charitable causes.
What is your view on the development of elite women's running in the marathon in recent years? And what do you expect in future?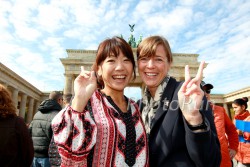 Uta: It has been really great to watch the standard of the elite women develop in recent years. We are witnessing an enormous strength in depth, with quite a few runners capable of running 2:22 and faster. I think this strength in depth will increase even further when more top-class 5,000m and 10,000m runners move up to the marathon. When you have this kind of quantity, it is usual for the quality to develop more—and they will run even faster. I am looking forward to future marathon performances from Mary Keitany, Aberu Kebede, Tsegaye Tirfi, the Olympic champion Tiki Gelana and, of course, to the 26.2-mile debut of the Olympic 10,000m champion Tirunesh Dibaba. Perhaps we will soon even see more times in the region of 2:17 and 2:18. At some point the world record will be broken, but I think that won't be so soon because Paula Radcliffe's 2:15:25 is really fantastic.
Will German women runners have a chance of reaching world class in the future?
Uta: Probably, although I believe their journey will be filled with challenges. Runners from Africa and Asia will continue to deliver consistently outstanding performances and fast times. But Germany has promising, talented, and ambitious young athletes like Sabrina Mockenhaupt, Katharina Heinig, Anna Hahner, and Lisa Hahner, who have the potential to establish themselves at this level. And, of course Irina Mikitenko, who is now competing successfully in the Masters events, proved that it is possible to run a sub 2:20. I hope all the athletes receive enough support and have experienced advisers around them as well as a good coach and the support of their parents and friends to help them on their way. I will be cheering them on and keeping fingers crossed for them! Hopefully, I will meet some of them in Berlin at the marathon.
———
This is an updated version of the interview which was conducted by Jörg Wenig in connection with the Berlin Marathon. The German version can be found in the Berlin Marathon brochure of this year's event.
Posted September 20, 2013
© Copyright 2013-2022 Uta Pippig and Take The Magic Step®. All Rights Reserved.
Article Archive