Meseret Defar: "In Ethiopia, We Learn How to Overcome"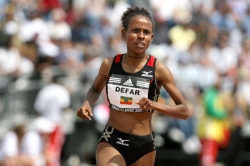 Meseret Defar improved her own world record for 5,000m to 14:16.53 at the Bislett Games in Oslo, Norway on June 15 in 2007. Her new record was an impressive eight seconds faster than her previous one. Take The Magic Step® spoke with the Ethiopian 5,000m Olympic champion soon after her race.
Congratulations on such a great performance! How did the race go from your point of view?
Meseret Defar: It was an unbelievable race. Everything came together perfectly. My preparations in training went really well. I was in peak condition and the weather was just right.
Where did you prepare for the world record attempt?
Meseret: I trained at home in Addis Abeba, in Ethiopia. My family and husband live there. I'm a family-oriented kind of person and need my family around me. My father, Tolla, my mother, Asther, and my five brothers and sisters give me their full support. My husband, Tewodros Hailu, also helps me with my daily training, and he is often at competitions whenever possible. He is so important for me because he gives me strength, looks out for me and supports me in everything I do.
That's great to hear. Do you mind saying how long have you been married?
Meseret: We married shortly before the 2004 Olympic Games. The wedding fortified me for the Olympic Games. I went and won the Olympic 5,000m title. Tewodros has also been here with me in Oslo. It's great to have someone you're so close to being with you at such important events.
You had a pacemaker until the second kilometer, and then it was all up to you.
Meseret: I was the clear favorite, and knew that my rivals had no chance of going with me. After the pacemaker dropped out, I knew it was up to me to keep the pace going. So I just ran—as fast as I could. After three kilometers I didn't feel tired, and that's when I knew I would do it, that I would break the world record.
You didn't just break the world record by a couple of hundredths of a second, you broke it by almost eight seconds. Was that your goal?
Meseret: My aim was a new world record. My basic premise was that I could run 14:19 or 14:20. That I ended up running so fast was barely credible, even for me. I would never have dreamed of a time of 14:16.
Long-distance running, hard training and the races themselves require a lot of discipline. Isn't that incredibly difficult?
Meseret: I think I knew what discipline was as a child growing up at home. In Ethiopia there are things that you just have to accomplish. For example, I had always had to fetch water from the nearest river and wood from the forest, even though there were hyenas all around. That's how you learn that sometimes you have to overcome things.
Why are Ethiopian runners so dominant in the long-distance track races?
Meseret: That's a good question. I think there are several factors at play here. For one, it is the altitude of Ethiopia. [Half of lowland Ethiopia is higher than 3,800 feet above sea level, more than 25 percent is over 5,500 feet and more than 5 percent is over 10,000 feet.] Addis Abeba is situated relatively high [over 7,500 feet]. Another is home-grown and highly nutritious food. In addition, the close-knit family plays a role, which I've already mentioned. This ensures discipline and is also a motivation to stay true to your goals and dreams.
You have already achieved a great deal this year: You ran a world indoor record over 3,000m of 8:23.72 in February and now one outdoors at 5,000m. What objectives did you set yourself this year?
Meseret: My big objective this year is the World championships in Osaka [Japan, August 25 to September 2]. I want to run the 5,000m there. The weather won't be ideal, since it will be quite warm and humid. As well as that, world championships are more likely to be tactical, races since all anyone cares about is winning, regardless of the finishing time.
Is the huge will to win of yourself and your compatriot Tirunesh Dibaba, the world champion at 5,000m and world indoor record holder over 5,000m, something you take for granted?
Meseret: Yes, of course. Tirunesh and myself are close friends. We often train together for the national team and get along well together. But when we get on the track we're rivals. That is quite normal—competition is competition, and there is no place for friendship. In terms of performance, we're on the same level, so that's why we don't risk running really fast against each other. That's why our races against each other so far have been tactical, each watching the other and reacting rather than acting.
At just 23 years of age you have already achieved so much in athletics. What more do you think you're capable of?
Meseret: What more can I achieve? Okay, I've achieved a few records but I would love to run well until I'm 30, and during that time I'd hope to break a few more records and run good races. If I can improve my training still further, perhaps 14:10 would be a realistic goal.
Can you imagine yourself also running 10,000m in the future?
Meseret: Yes, I'd also like to run 10,000meters in the future. Till now I've not felt really confident about the distance. But I know have what it takes to run 10,000m as well.
You say you have a lot of reasons to thank your family and especially your parents. How did you start in athletics?
Meseret: Some time ago I gave my parents a very special present. I bought them a nice house in a suburb of Addis Abeba from prize money I'd won. I grew up there and also started running there. In the mid 90s I was always running errands for my family. That's how I was running a lot, fetching water or going for groceries.
You won $50,000 in prize money for your world record in Oslo. What will you do with the money?
Meseret: For a number of years I've been doing what I can for disadvantaged children. I will donate part of my prize money to orphans and children with HIV and AIDS. Since September 2004 I've also been active as a UN ambassador for the United Nations Population Fund.
Where will your next race be?
Meseret: The next race will be in Ostrava on June 27, over 5,000m, of course. Whether I can run another world record there, I don't know. Running so fast as that is not something you can do every day. I have to see what I feel like and what the conditions are like there.
And your goal at the World Championships in Osaka?
Meseret: Quite simply, gold. I don't care what the time is. Winning is the only thing which matters because it's a title I've not won up to now.
© Copyright 2007-2022 by Take The Magic Step®. All Rights Reserved.
Article Archive