Irina Mikitenko After Withdrawing from the World Championships: "I Feel Empty and Exhausted"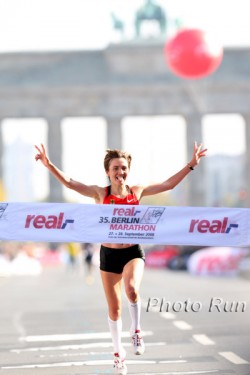 Irina Mikitenko, the German record holder in the marathon, hoped to do great things at the World Championship marathon in Berlin on August 23rd—coincidentally her 37th birthday. She won the Flora London Marathon in April and took first in the 2007/2008 World Marathon Majors series. Her personal record, 2:19:18 hours set in Berlin, was last year's fastest women's marathon.
However, the Kazakh-turned-German star recently withdrew from the World Championship marathon due to the passing of her father. Take The Magic Step® caught up with her as she reflected on this recent tragic event.
When you returned from St. Moritz after the first altitude training camp at the end of July, everything was looking good. Could you share with us what happened then?
Irina Mikitenko: Yes, that first altitude training camp in St. Moritz went very well, I was enjoying my running and was optimistic. But at the beginning of July, my father had to go into hospital with an acute chest problem. His condition grew worse. I was visiting him every day and was only at home briefly at lunchtime to cook for the children. The fact that I was there helped my father, I could see that—and it helped me as well. At that point I couldn't put all I wanted into the training. I tried to train early in the morning, but felt so empty, just wiped out. I just couldn't do it.
But you were still planning on running the World Championships?
Irina: I hoped my father would soon recover and I could then go to St. Moritz as planned for my second altitude training camp. Instead, his condition grew worse and he died in the third week of July. My father was the most important person in the world to me. The fact that we ever left Kazakhstan in 1996 to come to Germany is thanks to him. I still can't grasp the fact that he passed away, I miss him so much. This is the most difficult time of my life.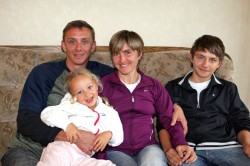 You still went ahead with the trip to St. Moritz, even though plans changed there—what lies ahead?
Irina: Yes, I went back to St. Moritz for nine days with my family and my mother. I saw everyone else training and so I went running out of habit. But there was no point, I felt empty and exhausted. I had so looked forward to the World Championships and turned down chances to race elsewhere after the London Marathon. But my family is much more important to me than anything else. My father was always proud of me and I'm going to keep running.
Dear Irina: Take The Magic Step and, we are sure, all of your fans and friends wish you deepest condolences. We thank you for sharing your thoughts with us.
© Copyright 2009-2022 by Take The Magic Step®. All Rights Reserved.
Article Archive