Interview with Elana Meyer: "I Love Being Fit"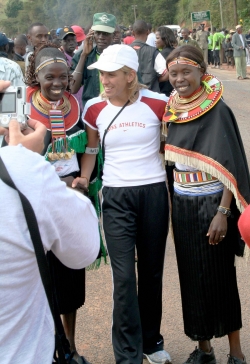 When Elana Meyer announced her retirement from international competition in the spring of 2005, she did so after a career of amazing length and quality. She first came to widespread international fame at the 1992 Olympics in Barcelona, Spain, the first Olympics in decades at which South Africans were allowed to compete. Her stirring duel with Ethiopia's Derartu Tulu in the 10,000m, in which she won the silver medal, was not only a great race in itself, but still stands as a powerful symbol of a continent's efforts to move past its racial troubles.
Once freed to compete on the world stage, Meyer was a leading racer for more than a decade. Among her many accomplishments were a world half marathon title, world bests for 15K and the half marathon, high placings in the World Cross Country Championships and a second-place finish at the 1995 Boston Marathon. Her personal bests include 30:52 for 10,000m, 46:57 for 15K, 66:44 for the half marathon and 2:25:15 for the marathon.
In retirement, Meyer is literally finding new mountains to climb—she plans to summit Mt. Everest. Take The Magic Step® recently caught up with the South African-based Meyer via e-mail.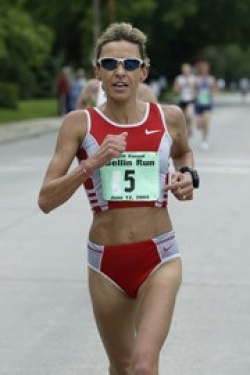 What led to your decision to announce your retirement from world-class competition?
Elana Meyer: It was 26 years since I won my first half marathon. I'm 40 years old, and there are so many other things I want to do in my life, which is very difficult when you are a professional athlete.
What have you been doing since then, both in terms of running and fitness, and in terms of how you spend your days?
Elana: I specifically wanted to move away from extreme exercise and just being able to do it for fitness and fun, so I run three times a week, and started playing golf, waterskiing, rockclimbing, climbing mountains. It is a fantastic lifestyle where I can combine fitness with a lifestyle I love.
Professionally, I have a motivational program I do in companies, and also do some life coaching. Starting in February, I will be the director of a sports foundation, JAG. The goal is to encourage kids to play sport again and to give an alternative to be occupied physically. It will be launched in April this year, so it is still in embryo form.
In the fall, you talked about doing the Two Oceans ultramarathon race in South Africa, but now you're not going to do it. What happened?
Elana: I got injured and lost two months of training, so have decided to alter my plans. I have too little time left to be prepared for the 56-kilometer event. I'm not sure if I will get back into racing. I will take it day by day. I love being fit anyway, and it is an important part of my lifestyle to be fit and healthy. Fitness contributes to a great quality of life and allows you to do a lot of other activities with more enjoyment.
Were you planning on resurfacing as an ultra runner?
Elana: The Two Oceans race is the most scenic run, and is in my backyard. It is really not the distance that attracted me, much rather the absolute beauty of the race, and it would have been a homecoming for me after competing abroad for the last 15 years. My plan was really only to do Two Oceans, and not to make a comeback!!
Now that you're 40, does running feel different, or does it feel the same, with the clock the only thing letting you know that you're slower?
Elana: I love being 40. I feel great, and enjoy being experienced, happy and challenged. In terms of running, I took two years off where I ran very little, so I do feel different now. I'm still far from being in a good shape, and only time will tell! Surely I'm slower now.
In retrospect, do you think the world's boycott of South African athletes helped to bring about the end of apartheid?
Elana: No, I do not believe that the sport boycott played a role in ending apartheid. Maybe the economic boycott did.
Politics and sport are almost impossible to separate. When do you think it's good for the two to mix, and when do you think it's bad?
Elana: I absolutely do not believe that individuals or teams in the sporting world should be used to benefit any political agendas—it robs sport of being a fair playing field where the best athlete should have the chance to win.
How do you think sport can improve the world independent of being used as a political tool?
Elana: Sport is a fantastic tool to bring people together. Sport occupies kids and enhances the quality of life of almost anybody that takes part. It generates camaraderie and a sense of belonging and achievement.
You had such a long career, with races all over the world. Out of all of them, which three are the most memorable?
Elana: First, getting the Olympic medal in Barcelona was an absolute emotional highlight. I was waiting for that for years—I ran qualifying times in 1984 and 1988—and it was filled with a lot of drama to get there. I don't know if I was more excited or relieved.
Second, to be the world champion in the half marathon in 1994 in Oslo. Third, setting the current world record for the half marathon in Japan in 1999.
Before South African athletes were allowed to compete internationally, you must have run a lot of races with no real competition. Overall, do you think running so many races by yourself in South Africa helped or hurt your racing after 1992?
Elana: Some of my best competitive years I ran in isolation in South Africa. I ran a lot of races because I love racing, and it was the only way back then to run fast in South Africa. I would have loved to have the chance to race internationally in those years—I was young, hungry and in the best shape of my life!!
Although you ran some good marathons, you were more consistently successful at shorter races. Why do you think that is?
Elana: I absolutely loved racing, and sometimes think that I did not enjoy preparing for the marathon as much because it required longer periods of preparation with a lot less races. Also, maybe a lack of patience—I enjoyed racing hard, and in the marathon I always felt that I need to pace myself rather than racing the way I did over shorter races.
Now you've also become an ambitious mountain climber. Did you want to do that while you were competing internationally, and just couldn't because of the demands of running? Or is that something that developed more since retiring from top-level competition?
Elana: I was fascinated by the 1996 drama on Everest, but it was never a personal desire to conquer the mountains. I almost by accident end up on the highest mountain in Africa, Kilimanjaro, and absolutely loved it. It was one of the most amazing experiences I've had. It was a great feeling to stand on the highest mountain of my continent, a continent that is so deeply part of me, and it was quite emotional and a strong feeling that I am very insignificant in the big picture. I would love to do more in the mountains, because it is there where my spirit gets fueled.
© Copyright 2007-2022 by Take The Magic Step®. All Rights Reserved.
Article Archive