Famiglietti: What, Me Run Recklessly? My Legs Tell Me What To Do!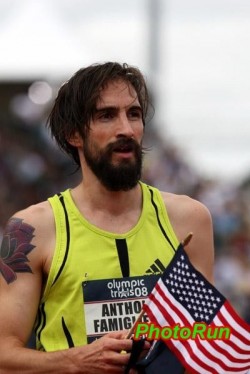 There are few runners like two-time Olympic steeplechaser Anthony "Fam" Famiglietti. In his 12-year running career, he's racked up a series of victories in events ranging from the 1500 meters to the 10,000m. Until now, his most impressive success on the track has been in the steeplechase event. In the 2008 Olympic Trials he dominated, running from the front, alone, in his preliminary and final races. He bettered his PR to 8:17.34. In Beijing, Fam qualified for the finals where he placed an impressive 13th overall in the world.
Besides his steeplechase victories, Fam's career highlights include running the 5,000m in 13:11.93—no small achievement considering that this time was the second fastest run by an American in 2007 and is touted as the fastest 5,000m ever by an American on U.S. soil. He has also run a sub 4-minute mile (3:55.71) and has demonstrated his versatility by running an impressive 27:37 in the 10,000m event.
Fam graduated from the University of Tennessee in 2000. He is sponsored by Adidas and currently lives and trains in New York City. When not running, he spends his time painting and composing original music.
Fam has enjoyed recent success: Last month, he won the U.S. 5K Road Championships, defeating Matt Tegenkamp in an exciting, uphill duel to the finish. Take The Magic Step writer Duncan Larkin spoke with Fam about his unique running energy and renegade style.
­­­­­­­­­­­­­­­­­­­­­­­­­­­­­­­­­­­­­­­­­­­­­­­­­­­­­­­­­You recently placed 13th in the Olympic steeplechase. Tell us about that incredible experience.
Anthony "Fam" Famiglietti: As an athlete, the biggest thing that I took from it is how the race unfolded. I was having difficulty with the air quality there for some reason and think it had a lot to do with how hard I ran my preliminary race. I ran a personal best solo; kind of wire-to-wire. I gave 100% and that was on a day when there was high pollution so I think that might have affected my breathing. And with one day of recovery, I had to come up with a different strategy [for the finals]. I could go out strong again and lead again which is the way I like to race. Or I could sit in the back and let the other guys do the work. The problem was that if I went out hard I'd be handing the race to a lot of guys. I wouldn't really win it; I can't run away from those guys—especially with the breathing issue. The other thing was running in the back, if I sat in last place and just picked guys off, I could probably finish in the top five. But I wanted to go for the win or the medal and so I had to make that decision and make that sacrifice. So I ran in the middle of the pack and it was a very slow pace—very difficult to go over the barriers. And with three laps to go, I took over and was in the lead and I led for around two laps. When they made their move, I just couldn't recover. If I had something for that move, I would have put myself in a position to get a medal. So I placed 13th in the world and that's great and all, but I knew I could have finished higher if I had run a different strategy, but sometimes you have to take a risk to win. At first I regretted that I didn't let myself finish better, but under the circumstances, I did well and I learned a lot for the next few races. Obviously I learned from that to win the 5K Championships.
That's a good lead-in to my next question. You just mentioned the 5K Championships. Did your preparation for the Olympic steeplechase get you in the shape you needed to be in to win the 5K Championships?
Fam: I peaked a week and a half after the Olympics. I took four or five days off after my race because of my breathing and the travel home. I started doing easy runs and felt incredible. And I started nailing workouts. There's this one workout called the Fire Tower in Blowing Rock, North Carolina. It's a 5-mile run straight up hill and there's a fire tower at the top. I broke the record for that. I took a day and a half off and then did 8 x 400 with 60-second recovery and ran them in 56-58 seconds. I had this great strength running the 5-mile tempo run and this great speed running the quarters, so it was obvious that I peaked late. That's just hit or miss; trying to peak is not an exact science. I was in incredible shape and it just worked out in a way that set me up for that 5K.
That was an incredible finish, running uphill for the win.
Fam: Thanks. I was ready to run a 4:10 for the last mile. I was ready to go—to take over the race after two miles and then [Matt] Tegenkamp took over a little bit before two miles and I thought, 'Go ahead, do the work man.' I got lucky on that one.
How much of your running success can be attributed solely to your mental outlook?
Fam: It's funny that you ask that, because I was thinking about that the other day. I just got off a four-week break and I lost weight. I'm like 127-128 pounds. I'm still really fit; I haven't lost any muscle mass. Basically, I'm built to run. At the same time, I think that I only ran a 4:24 mile in high school and I worked pretty damn hard just to run that. And I ran a 9:24 2-mile, so I was thinking: How many guys ran faster than me in high school in the mile and two mile and how many guys got to my level? Obviously, they had the same talent level if not more of a talent level if they ran faster than I did at that point—even in college I had guys running much faster than I did. So what was the difference that made me get to this point? What made me a two-time Olympian? I think a huge percentage of what we do and a huge percent of achievement in general has to do with you being motivated for whatever goal is at hand. For some people, when the going gets tough and they have to make sacrifices they aren't willing to do that and throw in the towel early on. I'm mentoring a kid who runs for the University of Tennessee. He's running really well now and he's worried because it was his first cross country season and his first pre-national race. He was hesitant about what he was going to do. He told me what place he wanted to finish. I said, "You can't go in looking like that. You have to look at a race like a prize fight against one guy and you may go in that ring and take a pounding from the guy and crawl out of the ring and say, 'Hey, at least I was in the fight and stepped in the ring.' Or you can get in there and get a punch in and see if guys bleed a little bit and then they realize that they got a little blood out of that guy and made him sting and they may not win that race; they may have gotten a top-ten finish, but you got to get in there and swing for the fences. You have to give a couple uppercuts, otherwise you'll just be another guy in the back of the pack." Some people won't take that risk, because if you throw a haymaker, there's a good chance you are going to get knocked out. I've been knocked out plenty of times, man. I've fallen in steeplechase more times than I can count, but I've gotten back up. I was completely aggressive over the barriers this year and took in what it means to be a steeplechaser and embraced it. That's what you got to do. You got to be all in.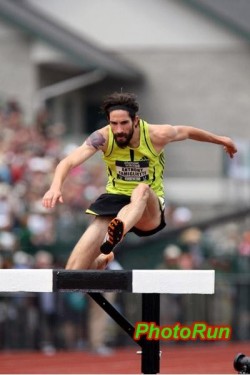 Along the lines of falling and getting back up, do you feel there is something that sets you apart as a steeplechaser than from, say a middle distance runner? Do you feel that you need more intestinal fortitude as a steeplechaser?
Fam: You can't run with fear in the steeplechase. You are just going to get your behind handed to you. That's my whole new thing that I've started up with my DVD, Run Reckless, and my clothing line, Reckless Running. Running reckless calls to mind when I was younger. I had this guy who used to tell me, "Fam, you need to go out and run with reckless abandon." What does that mean? I've realized that it means to just go out there and put everything on the line—everything that you have. There's no conservation; there are no tactics; just go out there and hammer it. That's what I did at the Olympic Trials: I just ran reckless. I did look back at certain points of the race and was like, "Damn, how big my lead is!" In the final, I kept looking up at the JumboTron. I was like "Holy crap, I have that big of a lead?" The last lap or so, I just slowed down to make sure I got over the barriers safely—make sure I didn't fall. That's what it is to run reckless. I could have looked like a complete idiot going out that hard in the Trials final. I could have blown up, but I had enough faith in myself to be able to run that way. You train hard and smart and you race recklessly. You are going to fall and get hurt; it's just part of the game—part of the event. It takes a certain type of person to be a steeplechaser. You have to have guts.
One of the mottos of Take the Magic Step is "Intensity Meets Playfulness." You just mentioned your intensity. I know you have a good balance with running and other things in your life, such as your art and your music. How does the other side of Fam complement your running?
Fam: My approach on life in general applies to all that I do. It was just serendipitous that I got into running. I'm not the kind of guy who would get into running. There were some people who led me towards running. I was lucky in that way. Most people in running don't have my mentality, because they sought after running on their own and had that Type-A personality. I think a lot of people that have my mentality would enjoy my running a lot. There are a lot of kids that I've seen who say, "I'm training so well, but I'm not racing well." They have all these questions for me. I try to sell them on this: Racing is not a judgment day, it's not a test. It's a time to celebrate all the hard work that you've done. My high school coach came up to me the night before the 5K championships. He said, "You're not even nervous. Are you worried for tomorrow? What's the deal?" I said, "What the hell are you talking about man? I'm getting ready to party. I'm getting ready to throw down tomorrow." He said, "Man this guy's going to win." I enjoy getting the opportunity to run. I'm healthy, I'm fit. I enjoy racing and people like to watch me race, because they get the enjoyment that I get out of it. They can see it. It's tangible. Half the time I have a smile on my. I enjoy what I do and I wouldn't be doing it if I didn't enjoy it. If I didn't like running I wouldn't run and if I didn't like painting I wouldn't paint. I don't do things for the money. I don't do things for the fame. I don't do things for any superficial reasons at all. I believe it was Joseph Campbell who once said, "You follow your bliss." My bliss just happens to be running. I just happen to be fortunate.
What's next for you? Where are you going to focus your efforts in the next Olympic cycle? As the reigning U.S. 5K champion on the roads do you stick with that, or move up in distance to the half-marathon/marathon or do you stick with steeplechase?
Fam: I have no idea man. [He laughs brashly.] Whatever my instinct tells me to do. My instinct told me to be a steeplechaser. My high school coach will tell anyone. They were afraid to let me do the steeplechase—afraid I'd get hurt. But I was such a great flat runner—a 2-miler, 5K, and cross-country runner. He really thought that I was a great long-distance runner from the 10K to the marathon. I think it was people not wanting me to run the steeplechase that drew me to it. I took it as far as I can. I could go a lot faster in the steeplechase. I don't really think I'm a steeplechaser. People shake their heads and say, "How can you say that: You are a two-time Olympian in the steeplechase?" I am a steeplechaser and I love the steeplechase, but when I say that I'm not a steeplechaser, I mean that it's not my event. It may be the 5K, 10K, or the marathon. I won't know until my legs tell me what it is. My legs tell me to run a 5K and I've run 13:11. My legs tell me to do a 10K and I ran 27:37 just kind of messing around. So my legs may tell me to do a marathon this year, but it won't be just for the sake of doing it. If in my heart, I feel like doing a marathon, there's no telling what can happen. We will just see where my instinct takes me.
© Copyright 2008-2022 by Take The Magic Step®. All Rights Reserved.
Article Archive