Boston Marathon Memories …by a Three-Time Champion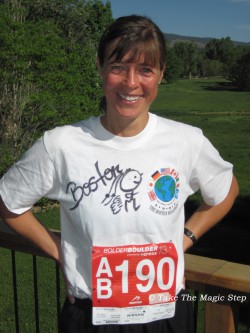 How do you celebrate after you have just won the Boston Marathon in record time?
If you are Uta Pippig in 1994, you lace your running shoes back on at 3 a.m.—and slowly jog and walk the dark, deserted streets for more than an hour, paying a solitary, personal homage to the city that has just made you its queen.
"I'd been dancing and enjoying myself earlier with many of my fellow runners and my other friends," she says. "I was on Cloud 9. My dream had come true and I was so excited that, when I got back to my hotel, I couldn't fall asleep.
"I got out of bed and quietly slipped out of the hotel, all alone. I just wanted to hug this wonderful city of Boston."
In those pre-dawn hours, the only other people around were the all-night workers you might think had little interest in a woman who'd spent the previous day running 26.2 miles from Hopkinton to Boston. Yet, incredibly, as she passed under the street lights, some of them called out, "Hi Uta …great race yesterday."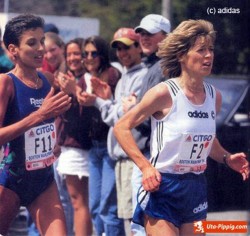 Uta recalled, "It gave me chills. I felt I was making a connection with the city. And it lasts to this day."
That 1994 win in 2:21:45 over Russia's Valentina Yegorova was the first of Uta's three historic consecutive wins in Boston. And with the 120th version coming up on April 18, she shares more memories—joyful and heartfelt!
The next year Uta ran side by side with Olympic 10,000-meter silver medalist Elana Meyer of South Africa through the Newton Hills, finally pulling away for a 1:40 minute lead and a 2:25:11 victory, in spite of blood blisters on both feet that made the last pure 10K agony.
"My feet were so sore there was no way I could dance that night," she smiled. Instead, she and the men's winner, Cosmas Ndeti of Kenya, celebrated the next day at the White House with Bill Clinton, himself a keen jogger.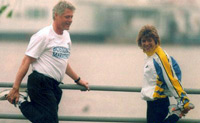 Flanked by Secret Service agents, they ran three miles with the President along the Potomac River and past all the cherry blossoms. Joggers coming by called out, "Good morning, Mr President.," …"Good morning Mr President". Then someone yelled, "Good morning Uta"—and everyone started to laugh. Uta remembered, "President Clinton wanted to hear all about the marathon, and before we left we enjoyed some stretching exercises for runners with him."
The 1996 race was special because it was the 100th running of the modern world's oldest marathon. Uta suffered severe, embarrassing stomach pain, yet bravely overcame a 30-second deficit towards the end of the race to beat Kenya's Tegla Loroupe in 2:27:12.
But her final victory celebration didn't last much beyond the finish line. She was rushed to Boston University Medical Center with severe ischemic colitis and gastrointestinal bleeding—all occurring during the race. "I was in the hospital for three days," she said.
"My fondest post-race memory that year is of being surprised during a TV show with my first childhood coach in Germany just two days after I got out of the hospital. I couldn't travel because of my recovery and I didn't know the show would have my coach on, and I was so happy to see him that I cried."
Asked for the coolest memory of all, Uta doesn't hesitate. "The one single most precious moment for me was being out in the quiet streets in the predawn darkness of Boston after my first win—and suddenly knowing this was a city that would be in my heart forever."
© Copyright 2016-2022 by Take The Magic Step®. All Rights Reserved.
Article Archive