A Chat with Lineth Chepkurui: The Little Kenyan with the Big Record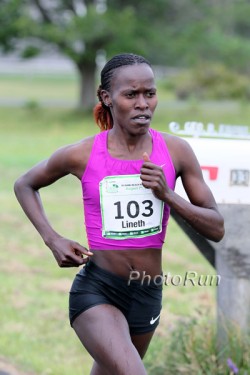 It is not an exaggeration to claim that KIMbia's Lineth Chepkurui is one of the best road racers ever to step foot on the United States. Just 22 years old and weighing under 100 pounds, the quiet Kenyan's running record is nothing short of amazing. First starting out as a cross-country runner, a discipline requiring toughness and agility, Lineth eventually moved on to road racing in the United States. She is a two-time winner of the Bay to Breakers 12K, where she owns the course record. She has won both the Credit Union Cherry Blossom 10-mile race and the Lilac Bloomsday 12K three times. And in August, Lineth set a new course record, taking first place at the Beach to Beacon 10K in Cape Elizabeth, Maine.
When not running the roads in the United States, Lineth is also making a name for herself in the world cross-country circuit. She was on the first-place Kenyan squad in the 2009 and 2010 World Cross-Country Championships where she finished in the top-10 overall in both races.
Just last month, Lineth bettered her half-marathon PR, running 1:07:46 hours at the
ING Rock 'n' Roll Half Marathon in Philadelphia where she placed second behind Meseret Defar of Ethiopia.
Take The Magig Step® recently caught up with Lineth to get her quick reflections on her incredible season as well as a look ahead into next year and the 2012 Olympics.
You have been racing a lot this season. How are you feeling? How has your body been handling the stress of road racing?
Lineth Chepkurui: I'm feeling ok. I'm very happy to have been running so strong this year in the United States. The training I have been doing in Boulder has been extreme. It's really cold there, so it has been a challenge to run and train in that kind of weather.
You've had an incredible season—setting multiple U.S. course records this year. It almost looks easy for you! Are you surprised at how well you have been running?
Lineth: Not really. I'm not surprised, because I have been working so hard. Before I took to road racing, I was competing in cross-country and that kind of difficult racing got me prepared for my performance in the United States on the roads.
Why do you think you are running so well? What are some factors that are contributing to your excellent performances?
Lineth: It's because I was able to get into good shape from cross-country. I believe that if I am in good shape after cross-country, then the rest of the season I'm going to be strong. One thing that I really like to do after cross-country and before I start the build-up for the road season, is to go to the gym. I go to the gym every day. I do light exercise and I think that helps me prepare for going from the grass training I do in cross-country to the hard training of the roads.
You weigh less than 100 pounds. Do you think this helps you run faster?
Lineth: Oh yeah. This helps a lot.
You are a member of the Kenyan Armed Forces. How do you balance your military obligation with your running career?
Lineth: It is sometimes hard. But I compete on the Kenyan Armed Forces team so they put all runners from the same team together in a camp in Nairobi and we get to train together. I am in the Kenyan Air Force, so I get to train with other members of my Air Force team and we compete against the Kenyan Navy and the Kenyan Army in the Armed Forces Championships, which is at the end of September.
You mentioned your training in Boulder as well as Kenya. If you could train anywhere in the world, where would it be and why?
Lineth: I train most of the time in Kenya, like in Nairobi for the Armed Forces Team. It doesn't really matter where as long as it's at altitude. I like training in high-altitude areas. So, when I train in a high altitude like Boulder there is no difference when I go back home.
Since there is no difference between where you train in the United States and Kenya, why do you come to Boulder for training?
Lineth: I come to Boulder to get ready to race the roads in the United States. There aren't the road races in Kenya like there are in the United States. Boulder is a good place to get my body and mind prepared to compete in America. My coach is also in Boulder. I usually come to the United States after cross-country season is finished. [Editors note: Lineth is trained by Dieter Hogen.]
You have won nearly all the major road races in the United States. How are you treated when you return to Kenya? Are you treated like a hero in your home country?
Lineth: I'm just treated like any other athlete. I don't get treated any differently. Nothing special.
Most of your success comes at the shorter distances like the 12K. You ran half-marathons before. Do you have any plans to move up to the marathon at any point?
Lineth: I thought about it going into last year's marathon season, but I have had some health problems that have prevented me from training for the marathon. I have had back problems. And last year, I strained my ankle. This season, I have been healthy, so at least I can think, and say, "OK, it's maybe time to get serious for the marathon, now." I have run a good 10K, 12K, and half-marathon. I'm healthy, so maybe it's time.
Are you planning to run this marathon before the 2012 Olympics?
Lineth: I'm undecided whether I will be going for the 10,000m or the marathon. I need to see how my performances are before I decide. I should know by the end of this year.
What's your favorite distance to race?
Lineth: The 7-mile and the 10K are my two favorite races right now.
You tend to run very well uphill. So is it true that you prefer more challenging courses with a lot of hills?
Lineth: Oh yes. The Bloomsday 12K is one of my favorite races, because it's tough, and I like pushing myself on the hard courses.
What do you like to do with your free time when you are not running?
Lineth: When I'm home in Kenya, I like to be with my parents. I help my mother. She lives at home alone and I help her with chores and look after her. I also help out with the Armed Forces. The Air Force asks me to help them out with recruiting.
What do you do with your free time when you are away from your home in Kenya?
Lineth: I like to read. I read novels. I also go on the Internet and read about health and get ideas on how I can perform well. I like anything to do with sport. I like to research about how to prevent injuries and about training. I'm very interested in prevention and using books and the Internet to prepare myself as best as possible.
© Copyright 2010-2022 by Take The Magic Step®. All Rights Reserved.
Article Archive