The Day a Goods Train Brought the Boston Marathon to a Halt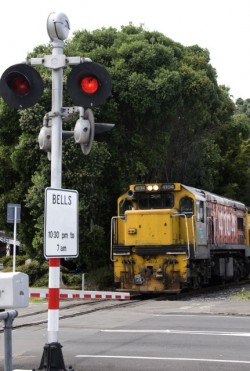 The 108th Boston Marathon will get underway on April 19th. Just as it was in 1897, the finish of the point-to-point course is in central Boston. Over all these years the course has had few changes. These days it starts in Hopkinton only a few kilometers from the first starting line in Ashland in 1897. Much has happened in all these years in the Boston Marathon that would be simply inconceivable today.
These days the mass field of runners brings the traffic to a standstill – it used to be the other way round sometimes. On April 19th 1907 a goods train brought the Boston Marathon to a halt after a few kilometers. It meant that the leading group were lucky. Ten runners were able to get over the level crossing shortly before the train arrived. Among them was the eventual winner, Tom Longboat. Those having to wait in the pack included the Olympic champion Tom Hicks and Johnny Hayes, who would win Olympic gold a year later. It was over a minute before the train was clear of the course. At the finish, Hayes was nonetheless third in 2:30:38, Bob Fowler, who was said to be in the form of his life, ran into second place in 2:27:54, despite the stoppage. Tom Longboat couldn't be caught. He won in a course record of 2:24:24. His margin of victory was greater than the time his rivals had lost at the level crossing. But who knows how the race would have gone if Tom Longboat hadn't been out of reach so early?
© Copyright 2004-2022 by Take The Magic Step®. All Rights Reserved.
Article Archive