A Sign of Success in the Fight Against Cancer at the Pan-Mass Challenge
The hand-made sign with its poignant message was held proudly aloft by a smiling young boy standing at the entry of the water stop in Nickerson State Park.
"BECAUSE OF YOU, I'M 13 NOW," it proclaimed.
The youngster had chosen a unique way of saying "Thank You" for being successfully treated for cancer, and his touching gesture of gratitude sent a special message of hope to the passing thousands of cyclists in the Pan-Massachusetts Challenge who were dedicating two days to helping others just like him.
Over the last three decades, the PMC—a two-day ride over seven different routes across Massachusetts—has raised a staggering $275 million for the Jimmy Fund to support cancer research and treatment at Boston's famous Dana-Farber Cancer Institute. Countless lives—many of them not long begun, like the boy at the roadside—continue to be saved with the help of the fund, which was named after a courageous young cancer patient, referred to as Jimmy, back in 1948.

Uta Pippig was among the 5,000-plus cyclists who together have a goal of raising $30 million during the Bike-a-Thon weekend of August 1-2. Michael Reger, co-founder of Take The Magic Step®, spotted the boy with the sign as they rode through Brewster. "He must have touched so many hearts—it brought home to us in a very special way how worthwhile the cause we were riding for really was," said Uta afterwards. "The Challenge has to be one of the most emotional sporting events in the world, and it has such a beautiful spirit. Many people in the crowds that lined the route and cheered us on so enthusiastically are cancer survivors whose lives have been saved at Dana-Farber. Others are riding or cheering on the cyclists in memory of loved ones they've lost to cancer. It's not unusual to come across doctors and patients riding side by side.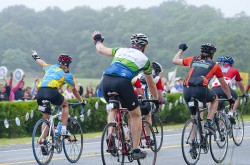 We stopped to chat to a group of children waving and cheering midway through the second day's ride. Some of them had had cancer, some were still fighting it—and they were surrounded by brothers and sisters and parents and friends who'd come out together to say, 'Thank you.' It was such a joy to me to take part in an event with so much love surrounding it—and there was new inspiration waiting for us around every corner."
Just seven days earlier, Uta had ridden 100 miles in Colorado in the Dusty Boot River Ride, organized by a little charity called SOS Outreach that does a huge amount of good improving the lives of thousands of at-risk and underprivileged children. Now, on the roads of Massachusetts—close to where she won three Boston Marathons—she was a part of the biggest and most successful athletic fundraising event in America, joined by cyclists from 36 states and 8 foreign countries.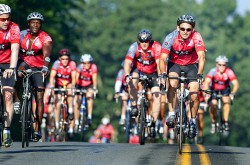 She began her first 84-mile bike leg in Wellesley, where during the nineties the college girls turned out in their hundreds to root for her during the marathon. "It was an almost surreal scene at 7 a.m.," she said. "The sun was still slowly rising and you could see it glittering through the trees. It had rained earlier and there was a mist on the ground. All around us was a sea of bikes and riders in red PMC t-shirts. Then suddenly, as we started, the only sound was the spinning of bicycle wheels. It took my breath away."
As the ride to Bourne got underway, strangers began to share their inspiring stories. "One of the cyclists in front of me was riding for his mother, who died of cancer in 2005," said Uta. "Next to me was another rider who told me his father was, at that moment, battling cancer. He had three cyclists riding with him and I was thrilled to be able to join the four of them for a large part of the first day."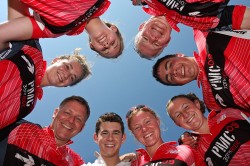 The stories of hope for a cure for the feared disease abound on the Ride. Sheldon Rothman, of Waban, Mass, is 80, and the oldest two-day rider in the Challenge. He still chokes up when he remembers losing his brother Howard to kidney cancer in 2000. For the last six years Sheldon has ridden PMC—and singlehandedly raised $38,938 for the cause. "When I get winded, the thought of the young kids at The Jimmy Fund Clinic keep me going," he says. Mark Starring, of Barrington, Rhode Island, had planned to ride with his 23-year-old son Matt—until Matt's leukemia made an unexpected return and chemotherapy treatments left him too weak to ride. Mark, accompanied by Matt's friend Christine, rode in his son's honor. Sixteen-year-old Hannah, from Shrewsbury, Mass, has helped her 11-year-old brother Jacob through three relapses in his fight against neuroblastoma, which started when he was 6 with a tumor on his right kidney. Hannah rode her bike from Wellesley to Bourne—while her brother was again being treated in Dana-Farber. "I've seen first hand how the money raised by the Challenge affects research and treatment," she says quietly.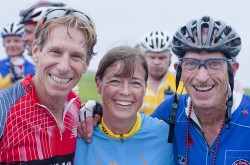 Then there's the inspirational message of 52-year-old Jothy Rosenberg, who lost a leg to osteosarcoma when he was 16, and since has lost a lung. Neither stopped him riding this year—or halting for an uplifting chat at the Lakeville stop with 12-year-old Brian Pender. Brian's leg was amputated last year after he contracted the same cancer that struck down Jothy. Now the gutsy kid is getting used to a prosthetic and has started playing soccer again. They chatted for a while and Jothy shared his experiences of overcoming the handicap they both must live with. As Jothy climbed back on his bike, a member of Brian's family said, "It was wonderful—Jothy shared his insights and related to Brian in a way no one else can. He will always be a source of inspiration for him."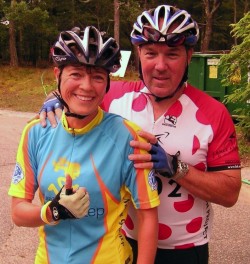 Uta's second day ride covered another 81 miles from Bourne to Provincetown. "There was a great sense of camaraderie, with the riders looking out for each other, just as the Jimmy Fund is doing for the children. It felt so comfortable. And thanks to Billy Starr, the founder of the PMC, and his organizing team, the support for each other and the fundraising efforts seem to have no limits," she said. "Between the fifth and sixth mile and in the middle of all the riders, I was lucky enough to meet up with Seldon Clarke, whom I joined on my way to Bourne the day before. Seldon was riding for the thirteenth year in a row. During that time he has raised more than $718,000 for the pediatric program at Dana-Farber. Seldon dreams of "a brighter future where cancer will no longer be a scary disease but one that is manageable and simple to cure." And as if that wasn't enough, he's also a really strong rider on the hills, and his encouragement helped pull me up them!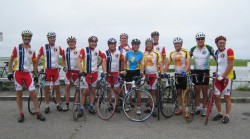 But I still needed some energy for the last miles to the finish—and I got it near the end of the ride, when a cool group of cyclists caught up to me, who called themselves, "Crack O' Dawn". Bruce, who's 65, told me they got the name because that's when they train together. The group has been together for a long time and some of them have ridden in the Challenge for more than 20 years. They helped to pull me in against some strong headwinds."
Wave after wave of cyclists crossed the finish lines all day Sunday, weary but content in the knowledge that their efforts will help to save lives.
"It was a ride beyond the imagination for a cause that's so important—the fight against cancer," said Uta.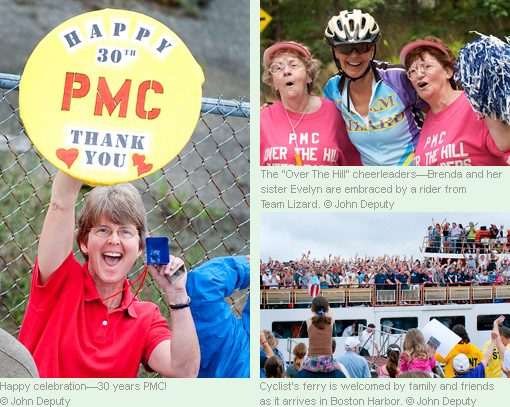 If you would like to learn more about the PMC, please visit www.pmc.org
© Copyright 2009-2022 by Take The Magic Step®. All Rights Reserved.
Article Archive