A Run Along Memory Lane with Boston Marathon Legend Ron Hill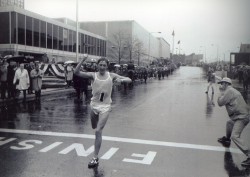 It was a warm afternoon in September 1964. Three hundred excited workers waited outside a gritty British factory to wish Ron Hill God speed on his journey around the world to represent his country in the Tokyo Olympics: the first Englishman ever to attempt both the marathon and the 10,000 meters in the Games.
Carrying a briefcase, the slightly-built 25-year-old PhD research chemist walked, smiling modestly, between lines of cheering, waving workmates.
I was there as a young reporter to describe the emotional scene for the readers of the daily paper in Manchester where I worked. Ron and I never met again, but covering his joyful send-off to what everyone in Britain hoped would be a glorious "double" was an assignment I never forgot. So when the Boston Athletic Association announced it would honor the 1970 Boston Marathon winner at its "Breakfast of Champions" on the eve of the 2011 race I climbed into my attic, managed after a frantic search to find the yellowing clipping of the story I wrote nearly 47 years ago—and booked my flight to Boston.
And that's how marathon legend Ron Hill and I came to race together … down memory lane!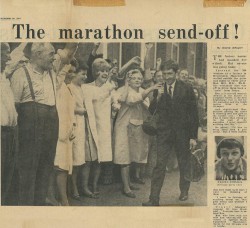 He'd just been lauded by a glittering host of former Boston winners at the "Breakfast of Champions" and now he held the fragile piece of newsprint I handed him carefully and showed it with a smile to May, his wife of nearly 50 years. "I'll never forget that day either," he said. "As I left work I was thinking, 'I'm off on a great adventure.' I had high hopes." But the dream was not yet to be. After six long weeks of sharing a barrack room with four other athletes at a former U.S. military base outside Tokyo, Ron stepped on the track for the final of the Olympic 10,000 meters … "petrified" by the majesty of the occasion.
"My legs were like lead," he told Take The Magic Step®. "I was lapped by the first three runners. It was horrible." He finished 18th in 29:53 minutes. "Then in the marathon I was fairly well up until about half way—then everyone just ran away from me." His time of 2:25:34 hours earned him 19th place. The three-time Olympian smiles ruefully. "I've saved the worst performances of my life for the Olympics," he says.
An old-fashioned amateur, combining his job with his passion—running—he was invited to run Boston in 1970 after setting a course record in the Athens Marathon. There was just one problem: Ron couldn't afford the air fare to America. "There was no prize money then—one Easter weekend I came first in three big races and won a pair of single bed sheets, a set of kitchen scales, and a picnic hamper." Finally people in his home town and other athletes passed around the hat and raised the cash for the fare.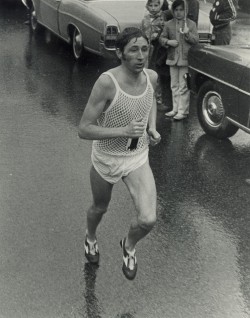 In Boston there was no fancy hotel waiting for him: Jock Semple, storied supremo of the Boston Marathon, met him at the airport and drove him to stay with a family in Winchester he'd never met. Then, on a 43-degree day, running in soaked shoes, through pouring rain driven by a fierce headwind, Ron ran alone to break the tape in 2:10:30—a course record by more than three minutes. "I had no idea what time I was running—I didn't have a watch and the mile markers were weird, like the one that said '4 ¾ miles to go'. I couldn't believe it when I found I'd run a 2:10 personal best. For winning, I got a medal and a bowl of beef stew," he laughs. (Two days after we talked, Geoffrey Mutai would follow in Ron's footsteps along the 26.2 miles from Hopkinton to Boston in 2:03:02—the fastest marathon time ever—and go home to Kenya with $225,000!)
At 72, Ron is a fascinating throw-back to the days when marathoners were forbidden to drink water before the ten mile mark. "The rules were strict," he says. "If a spectator offered a cup of water you didn't dare take it—if an official spotted you, you'd be thrown out of the race."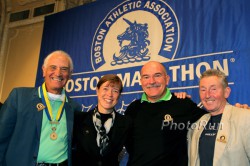 Today, long after the end of his competitive career, he's still held in awe in running circles around the world because of "The Streak." Ron went for a ten-mile training run on December 20, 1964—and hasn't missed a day since. "I'm coming up for 16,800 days," he says matter-of-factly. He had bunion surgery, yet managed a mile in a plaster cast every day for the next week, hobbling on a cane for 27 minutes. The Streak seemed like it was over in the nineties when a head-on car crash left him with his sternum broken in two places. "Fortunately I'd already run that morning," he says. "They let me out of hospital next day—and when my wife and mother went out to do grocery shopping I sneaked out and did a mile. I could feel the bones moving around." A measure of the reverence in which "The Streak" is held by his peers is demonstrated when he's honored at the traditional gathering of Boston champions on April 16. The first greeting to Ron from fellow Boston winners like Rob de Castella (1986) and Geoff Smith (1984 and 1985) is, "How's the streak?"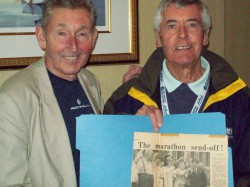 One day last year a woman who'd watched him running on the streets around his home scolded, "Running's not good for your knees." He replied politely, "I've got 150,000 miles on these knees, madam—and they're working quite well!" As she would have noticed had she been in Boston the day after our reunion to see Ron clock 25:17 in the B.A.A. 5K, averaging 8:09 a mile and wearing the bib number 1970 to celebrate the year of his Boston triumph.
As we parted, Ron took one more lingering look at the old newspaper clipping I'd brought him. "I had no idea that day what a wonderful life lay ahead," he smiled.
© Copyright 2011-2022 by Take The Magic Step®. All Rights Reserved.
Article Archive