A Marathon for the Ages—Complete With Goosebumps and Chills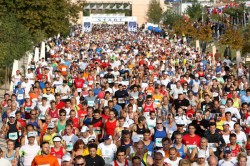 After most marathons the story is oftentimes the results, but the 2010 Athens Classic Marathon was no ordinary event.
True, surprise winner 26-year-old Raymond Bett led a Kenyan sweep on October 31 with a 2:12:40 hours; and Rasa Drazdaukaite, 29, of Lithuania won the women's race in 2:31:06.
But there was more. Much more. To the magic of this marathon was added 2,500 years of history—and behind the elite athletes came a host of runners from around the globe who were suddenly beset by a unique marathon malady: goosebumps and chills, most likely brought on by following the fabled route of Pheidippides' legendary run from Marathon to Athens in 490 B.C. Two-thousand-five-hundred years later, for many veteran marathoners it proved to be an experience like no other.
Like Nick Simonelli, a 59-year-old research consultant from Brewster, New York, who had decided that his eighth marathon was probably going to be his last—so it should be something special. "I'd dreamed of running the original course since the Athens Olympics—and it was hard to resist the chance to be caught up in 2,500 years of history," he told Take The Magic Step. Simonelli, whose trip to Greece along with several hundred other U.S. marathoners was organized by Marathon Tours of Boston, wasn't disappointed. "Athens was different," he said. "There was a tremendous buzz in the air. To start on the ancient Marathon battlefield and finish in the great marble Panathenaiko stadium built for the first modern Olympics in 1896 … well, as I came into the stadium I still had goosebumps." Considering the grueling hills between miles 10 and 20, Simonelli was happy to cross the line in 4:57:56, surrounded by fellow runners who readily admitted that the pervasive sense of history had given them chills.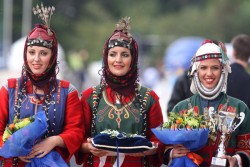 The excitement of the historic occasion had gripped Athens for weeks. Entries for the marathon that would keep Pheidippides' legend alive were closed at 12,500 months ago, and runners from all over the world filled the Greek capital's hotels, boosting the struggling economy by $34 million. Another 8,000—including Greek Prime Minister George Papandreou—took part in 5K and 10K races, illustrating once more that the lure of running isn't confined to the marathon. (Papandreou, 58, finished 1991st out of 3,252 in the 10K).
Warm weather, with temperatures around 70 degrees throughout, and a hilly course kept times down. The men's leading group, including Raymond Bett, passed the half-marathon mark in 65:49 minutes and at that time the course record held by Stefano Baldini—the Italian Olympic champion in 2004 in 2:10:55 hours—still seemed reachable. In the warm sun, however, the pace slowed.
A duel developed between Raymond Bett and the pre-race favorite Jonathan Kipkorir of Kenya. Five kilometers before the finish Raymond surged away from his opponent and improved the event record by two seconds with a respectable 2:12:40. It was his first victory in a marathon. Afterwards the elated winner vowed to return next year and break Baldini's record. "I didn't expect to be able to win here. It was very hot and therefore a tough race with a lot of competition," Raymond said. Jonathan Kipkori came in second (2:14:05), while countryman Edwin Kimutai placed third (2:15:21).
Women's winner Rasa Drazdaukaite had an almost three minute lead over Olga Glok of Russia (2:33:05) and Svitlana Stanko of Ukraine (2:38:59). "During the first ten kilometers I got very warm, but then someone gave me a cap and it got better," said Rasa. "Initially, I had wanted to run the marathon in Frankfurt today, but now I am happy I started here—it is a historically significant race."
And Premier Papandreou captured the prevailing feeling shared by more than 20,000 runners when he declared, "Today is a celebration for all humanity."
© Copyright 2010-2022 by Take The Magic Step®. All Rights Reserved.
Article Archive