The Hoyt Foundation

In 1978, then-16-year-old Rick, who has been confined to a wheelchair since birth, asked his non-runner Dad, Dick, if he could participate in a five-mile run to benefit a local Massachusetts athlete who had been paralyzed. The rest of the story is legend. With Dick pushing the chair, encouraged by an enthusiastic Rick, the duo has gone on to compete in close to 1100 international athletic events, including 31 Boston Marathons and six Ironman Triathlons. The 2009 Boston Marathon was their history-making 1000th event and their participation in Boston 2012 was memorable as well—their 30th running of the famous race! From Rick's simple request to experience the emotions of running a race, the pair has created an internationally-recognized charity organization with hundreds of runners, organizers, and sponsors.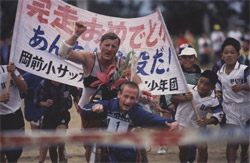 The goal of Team Hoyt is to integrate the physically challenged into everyday life. One way to accomplish this is to educate the able-bodied, making them more aware of the issues that the disabled face every day. Another is by actively helping the disabled to participate in activities that would otherwise be inaccessible to them. Team Hoyt targets both of these areas.
Over the last 35 years, Dick, who is 73 and a retired lieutenant colonel in the military, has pushed and pulled his son across the country and over hundreds of finish lines. When Dick runs, Rick is in a wheelchair that Dick is pushing. When Dick cycles, Rick is in a seat-pod attached to the front of the bike. When Dick swims, Rick is in a small but heavy, firmly stabilized boat being pulled by Dick.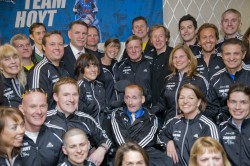 When Rick was born in 1962 the umbilical cord coiled around his neck and cut off oxygen to his brain. Dick and his wife at the time, Judy, were told that there would be no hope for their child's development. Defying all the predictions, at age 51 Rick is now a graduate of Boston University with a degree in Special Education.
Although he cannot write, he has a special interactive computer that lets him communicate by painstakingly choosing one letter at a time using the slight head movements that he can manage. In his own spirited words, he told his Dad what the races mean to him:
"What I mean when I say I feel like I am not handicapped when competing is that I am just like the other athletes, and I think most of the athletes feel the same way."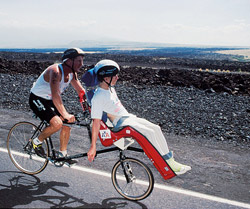 Team Hoyt received the 2008 Omar N. Bradley "Spirit of Independence Award," bestowed upon outstanding American citizens or organizations symbolizing the spirit of freedom and independence on which our country was founded. The same year both father and son also were inducted into the Triathletes Hall of Fame. And in July 2013 the team received the Jimmy V Perseverance Award in a most heartfelt presentation at the ESPYs.
Together the Hoyts don't only compete athletically; they also go on motivational speaking tours, spreading the Hoyt brand of inspiration to all kinds of audiences, sporting and non-sporting, across the country.
The Hoyt Fund (now called The Hoyt Foundation, Inc.) was established in 1992 to enhance the lives and mobility of people with disabilities. Its monies are used to promote the integration, inclusion, and acceptance of people with all types of disabilities and their families into every aspect of society. Hoyt activities include the development of a curriculum at Boston Children's Museum to teach children what it is like to have a handicap; consultation with manufacturers on the development and construction of better equipment for people with disabilities; and provision of educational material, workshops, and seminars to support the vision of mobility and life enhancement for the handicapped. Money from this fund also has gone to summer camps for physically challenged kids and horseback riding programs for people with disabilities.
Rick himself is confident that his visibility—and his father's dedication—perform a valuable purpose in a world that is too often divisive and exclusionary. He typed a simple parting thought:
"The message of Team Hoyt is that everybody should
be included in everyday life."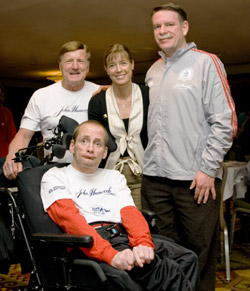 To learn more about The Hoyt Foundation, Inc., a nonprofit 501(c)(3) organization, please visit: www.TeamHoyt.com.
Uta's message: Every time I see Dick and Rick Hoyt, I just want to hug them and say "You go, guys! Thank you for all your inspiration!" The amazing father and son are a true team, each helping the other, and what they have accomplished is a tribute to the human spirit in all of us. Team Hoyt stands for what is best in sports and life. Their never-give-up attitude inspires people everywhere.
They work tirelessly for their charity and to raise money for their causes. Singlehandedly the father and son team have become a symbol of what people can accomplish in this world—no matter what the challenges may be.
They have touched so many people with their generosity and their spirit. With each race they run, with each event they attend, they are making the world a better place.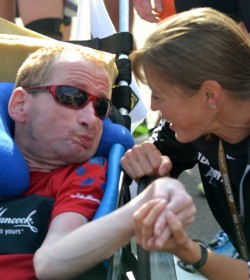 Team Hoyt asked me to be the coach for their runners for the 2008 Boston Marathon and I said 'Yes' immediately. I coached them again for the 2009 marathon, which also was the 1,000th event for Dick and Rick, and for the races in 2010 to 2013. And I am honored to support the runners of The Hoyt Foundation for the marathon in 2014 too. I get so much inspiration from the entire Team's dedication, courage, and strength of will. And I am happy to help them in their charitable efforts in any way I can.
The supreme inspiration that Dick and Rick Hoyt evoke when they take to the roads is something that Take The Magic Step cherishes.

—
Read more about Uta and the Hoyt Foundation in the Boston Marathon with information from the event in 2009.
Here is an exclusive interview with Dick Hoyt from May 2010 "YES YOU CAN! How Team Hoyt Overcame All Obstacles to Complete its 28th Boston Marathon."
You can read the inspiring story of their 29th Boston Marathon in the following article "How Charity, Courage, And A Good Samaritan Met at the Boston Marathon 2011."
You can find more information on Team Hoyt's Boston Marathon 2012 here: "An Unforgettable Boston Marathon Gave Thousands An Insight Into the Courage Of Team Hoyt."
Updated July 28, 2013