South Boston Neighborhood House

Founded in 1901, the South Boston Neighborhood House's mission is to support family and neighborhood life in the diverse community of South Boston. Among its work are a youth reading program; child care for pre-school and school-age children; adolescent programs; summer day camps; family services; drug awareness programs; and a senior center. The House serves all income levels and ages.
Uta has worked with the House since 2002. That year, she won the Ollie Road Race, a 5-mile race first run in 1941, which benefits the House. "It's a beautiful family-oriented race and charity," Uta says. "In addition to larger, national organizations, I wanted to get involved with a small, community charity. I've run the race every year since." During race weekend, Uta also starts the children's runs and helps out at the awards ceremony.
Below is a recap of the 2006 race weekend. For more information about the South Boston Neighborhood House go to the South Boston Neighborhood House Website. For further details on how to make a contribution visit How To Give. And for more information about the Ollie Road Race go to the Ollie Road Race Facebook page.
---
Record Field supports Neighborhood House at Ollie Road Race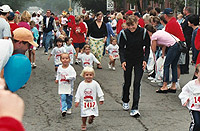 Over the weekend of September 9-10, 2006, more than 1,000 runners toured South Boston, Massachusetts to support the South Boston Neighborhood House and its mission of meeting the diverse needs of the community's residents. By participating in the 66th running of the Ollie Road Race Classic (a 5-miler) on September 9, as well as the ever-growing Youth Races and Carnival the next day, the record field helped the South Boston Neighborhood House to continue to provide childcare, family literacy programs, adolescent programs, volunteer services, family services, elder services and technology programs.
The 5-miler on Saturday once again served as the New England championship for the distance. Koichiro Nagata, a member of a visiting Japanese ekiden (relay) team won the men's race in 24:04 over Irish Olympian Mark Carroll, who ran 24:28. A local runner, Emily Raymond of Medford, won the women's race in 28:47 over Tammie Robie, of New Hampshire, who ran 29:16. Uta placed second in the women's master division, and then enjoyed spending time talking with her fellow runners and Ollie supporters. All of the finishers received a book, evidence of the strong role the Neighborhood House plays in supporting literacy in the community.
At most events, the children's runs are held soon before or after the main race. The Ollie youth races have become such a phenomenon that in recent years they've been given their own day. Runners were as young as one – participants in "the diaper dash," in Uta's words – on up to 14, with the teens covering 1.2 miles. They, too, each received a different book at the finish.
"I love the children and to be with them," Uta said about her role as starter for all of the youth races. "It's a special morning there with the children – talking to them about running, passing the torch to the next group of runners. It's also nice when some of the parents ask me about training for kids. I think they can feel my joy of running."
Updated March 5, 2015