Leukemia and Lymphoma Society – Team in Training

One of the charities Uta Pippig supports is the Leukemia and Lymphoma Society. During a meeting which Uta attended in Boston in 2005 members of Team in Training, who ran the BAA Boston Marathon in support of the Leukemia and Lymphoma Society, sang a song which Uta is delighted to publish on this Web site.
This Ancient Human Race
There are some who run for money,
Some to gain a winning time,
Some run to wear the laurel wreath
Beneath the Citgo sign,
But the last are undefeated
As they strain to cross the line,
And I cheer them with my whole heart
As I read their T-shirt signs:
Chorus: We are running to end hunger,
To fight cancer and MS,
We are running for the children
We know and love the best,
We are running to a new place
We'll know when we arrive,
We are running for our freedom,
For our lives.
There is one who works a wheelchair
With one leg and one good arm,
A father pushes up the hill
His quadriplegic son,
An old man smiles serenely
As we cheer his graceful run,
Someone's dressed up just like Gumby
And he's running just for fun.
Chorus
I am standing on the sidelines
But I'm part of this old race,
I read the pain and passion
On every passing face,
They are reaching for our water
Like a cup of healing grace,
All colors, shapes and ages
In this ancient human race.
Chorus
© 1998 by Ben Tousley, Whole World Music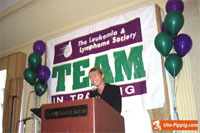 "This Ancient Human Race" appears on Ben Tousley's CD, "Open the Gates" (Whole World Music, 1998). It was inspired by Ben's yearly attendance at the Boston Marathon – as a watcher, not a runner! – especially the year after Ben had completed radiation treatment for Hodgkin's Disease. This great parade of humanity is not just about people running for themselves but for many others struggling with illness and other hardships.
Ben Tousley is a folksinger from the Boston area. His Community Music Programs for children received the 1989 Boston Beyond War award "for communicating a clear vision of our richly diverse human family through music."
For information about Ben and his recordings: Ben Tousley, Whole World Music/38 Campbell St. Woburn, MA 01801 – USA
Click here for more information on the Leukemia and Lymphoma Society: www.teamintraining.org