Kinderhilfe Petershagen-Eggersdorf e.V.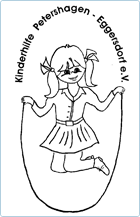 The 'Kinderhilfe' — translation: "Children's Aid" — has been one of our Take The Magic Step Foundation's charity partners since autumn of 2009. It is a partnership that is especially close to my heart because this extraordinary organization is headquartered in the pretty village of Petershagen-Eggersdorf — my childhood hometown near Berlin.
When I learned a few years ago about the incredible work the Kinderhilfe does and their dedication to helping children and young people in need, I knew immediately that I should do something for this organization through our Foundation.
I was lucky enough to enjoy a happy childhood spent in the idyllic surroundings of Berlin, where I enjoyed my education and began what was to be my running career. I remain full of gratitude — I will never forget the love and support of the people at home whose love and encouragement have helped me on my journey. But the Kinderhilfe's work brings home to us the fact that there are many children who are not so fortunate.
Here at Take The Magic Step, our wish is that every child receives adequate support and experiences a happy childhood. So we reached out to the Kinderhilfe and asked them what we could do to help. Over the years from that beginning a wonderful collaboration has developed.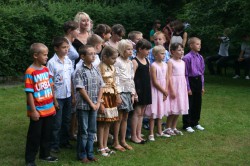 The Kinderhilfe was founded in 1993 and its members have dedicated themselves to helping children in need, not only in their own village, but also from a zone in Belarus that was affected by the 1986 nuclear disaster in the Ukrainian town Chernobyl.
They founded summer camps that began in 1992 when children from Serebryanka, their partner community in Belarus, came to Petershagen-Eggersdorf to spend a carefree holiday. Their stay was so successful that from then on the summer camps were held every year and became a beautiful tradition. In summer, 20 young guests spend part of their time at the youth education center, "Haus Bötzsee," and the weekends mostly living in the homes of host families. Healthy nutrition, sports, games, and cultural activities are available at the center for these children. The program includes, for example, archery at a local club, visits to the zoo, sightseeing, cycling, and much more. In addition, the Belarusian children and families in need have for many years received humanitarian aid in the form of food and clothing.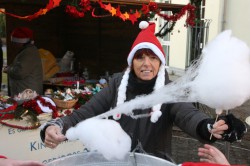 But because of the costs involved in the complex planning, the financial burden has not been easy to shoulder, and since 2007, despite many generous donations, the Kinderhilfe has been forced to hold the camp only every other year.
Another wonderful project also helped a group of children who visited from the area close to Kyiv, Ukraine, for a fun summer camp. Many of the children were relocated from the war-stricken southeast of the country. With the help of the caring team of Kinderhilfe and teachers and health professionals, the children found a few days of play and games, hiking and being at the lakes in and around Strausberg. It was a special time together and sharing their joy is such a beautiful memory.
Over the years, the efforts of the organization have shifted a little and now increasingly focus on supporting socially disadvantaged children in the Kinderhilfe's immediate area. For example, they distribute gift certificates for school supplies for kids enrolling in elementary school, give Christmas gifts, pay for club membership fees, and contribute to school or after-school trips. The necessary funds are raised through bake sales at markets and other activities of the club members, and numerous small and large individual donations contribute to the success of these initiatives.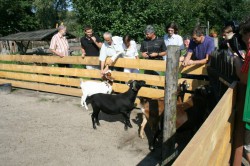 The Kinderhilfe is also supported by donations from local and regional businesses and other associations, as well as by municipal institutions and the local government, which generously provides efficient help in emergency situations.
I can still remember how impressed I was at the first meeting I attended, and since then I have visited the Kinderhilfe every year. I have been touched — and often amazed — by the scope of their activities and projects which we joyfully support financially as well. Together with our Take The Magic Step team, I have also had the opportunity to visit the kids' farm and the fairytale playground (which was then still under construction but is now finished) and to present our donation.
If you would like to learn more about the Kinderhilfe and would like to join Take The Magic Step in supporting this wonderful organization, you can find more information here: www.Kinderhilfe-eV.org
Updated April 2022