Further charity projects Uta and Take The Magic StepTM supported
South Boston Neighborhood House

Founded in 1901, the South Boston Neighborhood House's mission is to support family and neighborhood life in the diverse community of South Boston. Among its work are a youth reading program; child care for pre-school and school-age children; adolescent programs; summer day camps; family services; drug awareness programs; and a senior center. The House serves all income levels and ages.
Uta has worked with the House since 2002. That year, she won the Ollie Road Race, a 5-mile race first run in 1941, which benefits the House. "It's a beautiful family-oriented race and charity," Uta says. "In addition to larger, national organizations, I wanted to get involved with a small, community charity. I've run the race every year since." During race weekend, Uta also starts the children's runs and helps out at the awards ceremony.
Below is a recap of the 2006 race weekend. For more information about the South Boston Neighborhood House go to the South Boston Neighborhood House Website. For further details on how to make a contribution visit Donate.
Record Field supports Neighborhood House at Ollie Road Race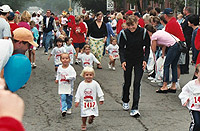 Over the weekend of September 9-10, 2006, more than 1,000 runners toured South Boston, Massachusetts to support the South Boston Neighborhood House and its mission of meeting the diverse needs of the community's residents. By participating in the 66th running of the Ollie Road Race Classic (a 5-miler) on September 9, as well as the ever-growing Youth Races and Carnival the next day, the record field helped the South Boston Neighborhood House to continue to provide childcare, family literacy programs, adolescent programs, volunteer services, family services, elder services and technology programs.
The 5-miler on Saturday once again served as the New England championship for the distance. Koichiro Nagata, a member of a visiting Japanese ekiden (relay) team won the men's race in 24:04 over Irish Olympian Mark Carroll, who ran 24:28. A local runner, Emily Raymond of Medford, won the women's race in 28:47 over Tammie Robie, of New Hampshire, who ran 29:16. Uta placed second in the women's master division, and then enjoyed spending time talking with her fellow runners and Ollie supporters. All of the finishers received a book, evidence of the strong role the Neighborhood House plays in supporting literacy in the community.
At most events, the children's runs are held soon before or after the main race. The Ollie youth races have become such a phenomenon that in recent years they've been given their own day. Runners were as young as one – participants in "the diaper dash," in Uta's words – on up to 14, with the teens covering 1.2 miles. They, too, each received a different book at the finish.
"I love the children and to be with them," Uta said about her role as starter for all of the youth races. "It's a special morning there with the children – talking to them about running, passing the torch to the next group of runners. It's also nice when some of the parents ask me about training for kids. I think they can feel my joy of running."
Updated March 5, 2015
---

Leukemia and Lymphoma Society – Team in Training
One of the charities Uta Pippig supports is the Leukemia and Lymphoma Society. During a meeting which Uta attended in Boston in 2005 members of Team in Training, who ran the BAA Boston Marathon in support of the Leukemia and Lymphoma Society, sang a song which Uta is delighted to publish on this Web site.
This Ancient Human Race
There are some who run for money,
Some to gain a winning time,
Some run to wear the laurel wreath
Beneath the Citgo sign,
But the last are undefeated
As they strain to cross the line,
And I cheer them with my whole heart
As I read their T-shirt signs:
Chorus: We are running to end hunger,
To fight cancer and MS,
We are running for the children
We know and love the best,
We are running to a new place
We'll know when we arrive,
We are running for our freedom,
For our lives.
There is one who works a wheelchair
With one leg and one good arm,
A father pushes up the hill
His quadriplegic son,
An old man smiles serenely
As we cheer his graceful run,
Someone's dressed up just like Gumby
And he's running just for fun.
Chorus
I am standing on the sidelines
But I'm part of this old race,
I read the pain and passion
On every passing face,
They are reaching for our water
Like a cup of healing grace,
All colors, shapes and ages
In this ancient human race.
Chorus
© 1998 by Ben Tousley, Whole World Music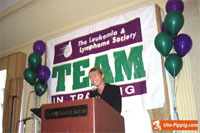 "This Ancient Human Race" appears on Ben Tousley's CD, "Open the Gates" (Whole World Music, 1998). It was inspired by Ben's yearly attendance at the Boston Marathon – as a watcher, not a runner! – especially the year after Ben had completed radiation treatment for Hodgkin's Disease. This great parade of humanity is not just about people running for themselves but for many others struggling with illness and other hardships.
Ben Tousley is a folksinger from the Boston area. His Community Music Programs for children received the 1989 Boston Beyond War award "for communicating a clear vision of our richly diverse human family through music."
For information about Ben and his recordings: Ben Tousley, Whole World Music/38 Campbell St. Woburn, MA 01801 – USA
Click here for more information on the Leukemia and Lymphoma Society: www.teamintraining.org
---
Uta's commitment to charity: Successful donation campaign for New Orleans
34 victims start a new life: Successful donation campaign for New Orleans
With highest appreciation Uta Pippig thanks all of you who supported her Charity project for the victims of Hurricanes Katrina and Rita. All of the donations received were allocated to support the project of a corporate client that aided 34 victims in starting a new life in South Florida.
The aid these victims received included funds for security deposits, rent, and furnishings for their new apartments. With the exception of a grandmother with two grandchildren all the victims who received funds are now either working or back in school.
It was the aim of our project to find these people a secure place to live and help them to find employment. So we have accomplished what we initially set out for. The families are still reverent and deeply thankful that so many strangers care so much for them. Because of continued generous donations, the project was also able to provide many presents and gift cards to the children and parents at Christmas. Tears of joy and thankfulness freely flowed.
Background of the donation campaign for New Orleans:
Like us, you may have felt compelled to do what you can to help people rebuild their lives in the wake of Hurricane Katrina and Rita's devastation in late summer and fall 2005. We were shocked by the sweeping loss of life, homes, and livelihoods on the Gulf Coast. But we also marveled at the strength of the survivors and the compassion shown by so many. We know that together we're capable of so much!
We were working closely with one of our generous corporate clients to relocate former New Orleans residents to Florida and provided them with food, clothing, and housing, as well as assisted in their job searches.
We were also donating all proceeds from Uta's merchandise sold online for this period of time towards this effort. We still welcome your questions and comments. Feel free to write us at uta@takethemagicstep.com.
In the name of all families, who received help, we thank you for your generous support.
Uta Pippig and Team
---
Uta is new patroness of the charity project Run for South African Children

In connection with the charity Run for South African Children, Andreas Eicher, who is in charge of the project, has published the following newsletter:
"It was very emotional for me to see how poorly and miserably the children of Africa grow up. I hope that many people will join the charity project to help the poorest of the poor, the children, to have a better life. Thank you!"
Having achieved victories in Berlin, New York and Boston, Uta Pippig, former world best marathon runner, has been very active in supporting aid projects for children for years. Furthermore, Uta was able to see for herself the situation on the spot. Knowing about people's needs and sorrows, she supports the charity project Run for South African Children, acting as patroness. "To me, it was a great emotional experience to see the way people and, above all, children live in Africa. Only those who have seen their miserable circumstances can appreciate how well our living conditions are," Uta says.
Uta, who appeared among others in the CBS Late Show of David Lettermann and who went jogging with former US President, Bill Clinton, is equally popular in Germany as in the US. She has been using her popularity in order to develop her sport and to motivate people to go jogging. This is Uta's goal still today. While her active career is running short, she wants to pass on her knowledge. Uta is going to engage herself in her sport, also in the future – in running events, promotions as well as in charity events, such as for example, the project Run for South African Children.