Giving
Improving the Lives of Underprivileged Children and Adults
"Together we can make a difference by helping those who need care, love, understanding, and emotional support."—Uta
The Take The Magic Step Foundation's charitable activities have long been close to my heart. They include:
Support of the 'Kinderhilfe' organization, near Berlin; the SOS Outreach programs for children in the U.S., the Hoyt Foundation in preparation for the Boston Marathon, and the 'PeopleWeaver' organization in Uganda. Serving as honorary chair of the Louisa May Alcott Orchard House as well as visiting schools, colleges, and running teams with my motivational "Running To Freedom™" speaking series.
Take The Magic Step Foundation™
"Never Give Up"
Mission
Our mission is to improve the lives of underprivileged children and adults who lack education or face poor health or social and environmental challenges. In addition to providing financial resources to advance research and contribute direct aid, we work with volunteers and partner organizations to provide those in need with opportunities, hope, and encouragement.
"Everyone can make a difference. Sometimes simple gestures of love and care can lift the spirits of a sick child."
–Uta Pippig, Co-founder
About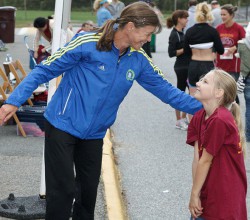 The Take The Magic Step Foundation, a 501(c)(3) nonprofit organization, was inaugurated in 2008 to help people in need receive education and achieve both better health and a greater sense of wellbeing through its direct efforts and support of local, national, and international organizations that either provide outreach programs or engage in medical research. 100 percent of all donations goes to our charity partners. For more information about our partners click
here
.
I started the foundation together with Michael Reger as a result of our concern that not everyone has equal opportunities. Our ongoing interest in community outreach, medical science, and health-related initiatives has led us to work with organizations that share our beliefs and goals. We focus our personal energies, time, and support on seven wonderful, life-changing organizations: SOS Outreach, the Hoyt Foundation, the Louisa May Alcott's Orchard House, the Dana-Farber Cancer Institute, the 'Kinderhilfe' in my hometown in Germany, the 'PeopleWeaver' organization in Uganda, and the Children's Hearing Institute in New York City. You can find more information about many of these great causes by clicking the "Charities" button on the left hand margin of this page.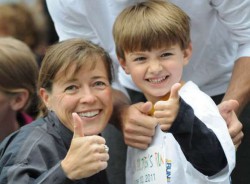 Over the years, we have been able to increase public awareness of children and adults in need through my personal appearances and the financial donations, including those from our members of the Take The Magic Step team, philanthropists, and supporters just like you who believe passionately in our work. Every day, I send a heartfelt Thank You to all the people who allow us to continue our aims of helping others.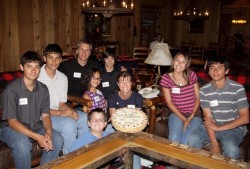 Seeing the laughing eyes of children in the SOS Outreach program as they realize for the first time that they can improve their lives and health will change your life even more than it changes theirs. The grateful smiles of the first shy SOS children at our Take The Magic Step team meeting in the mountains of Colorado or their cheering voices as they watch for us to cross the finish line at their annual fund-raising bike ride inspires us here at Take The Magic Step to work as hard as we can to make their dreams come true.
I have been so humbled by coaching the members of the Hoyt Foundation from 2008 to 2015 in their preparation for the Boston Marathon. And enjoy supporting the team ever since. For many years, in awe, I have greeted and hugged this group of charity runners as they cross the blue and yellow finish line, sometimes in pain, but always uplifted by accomplishing their goal of supporting the legendary father-and-son wheelchair team of Dick and Rick Hoyt. For 32 years the Hoyts crossed the Boston Marathon finish line together, the dad tirelessly pushing his wheelchair bound son, with the crowd in tears and screaming admiration and encouragement all at the same time.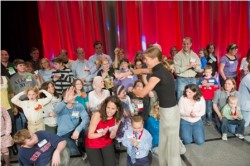 At 74, Dick reluctantly gave up his place at the helm in 2015, but Rick goes on with long time Hoyt runner Bryan Lyons as his "pusher". Every time I think of Dick and Rick and their dedication and courage it moves me to do more to help provide for those in need so that they can make their lives healthier and better.
Each year my heart is filled with concern and hope as I am surrounded on the Dana-Farber Marathon Challenge stage by the brave children fighting cancer. But they always give us joyful high-five, acknowledging their trial and ours. And I look out at the audience, filled with their compassionate marathon partners, who each year raise millions of dollars for cancer research to help drive the crusade for a cure.
I have wholeheartedly supported the 'Kinderhilfe' organization, outside Berlin, ever since I got to see that these children were lacking basic necessities including school supplies, transportation or means to attend after-school activities. The organization is so appreciated in my hometown area where I was lucky enough to enjoy a happy childhood.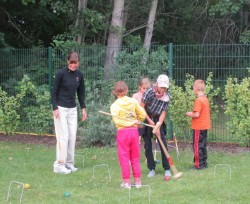 'Kinderhilfe' also organizes summer holiday camps for the children of the victims of the Chernobyl nuclear disaster, and the previous two years children from the war-torn areas in the Ukraine were also included.
We cherish our involvement with the Louisa May Alcott Orchard House, a dedicated group in Concord, Massachusetts who preserve the legacy of the famous author who was also America's first "Running Girl." This special bond has been dear to my heart for many years and I am looking forward to joining the group in September for their annual fundraiser run/walk again and to present my Running To Freedom™ speaking series in honor of Louisa May Alcott.
Through the 'PeopleWeaver' organization we have come to understand the difficulty of simple survival in Uganda and how micro-credit loans can help families to a new start in overcoming poverty and starvation.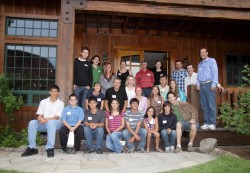 The needs of these organizations push us to do as much as we can for those who are not as fortunate as we are, and from the bottom of my heart I thank everyone who is supporting these efforts and going beyond to help children in need.
"All of us here at the Take The Magic Step Foundation feel privileged to have access to education, good healthcare, and enough food. To know that this is not the case for everyone is what drives us to do what we can to offer hope, inspiration, and opportunities."
Truly yours,

If you would like to learn more about our foundation, or if you would like to make a donation, please email us at foundation@TakeTheMagicStep.com or write to us at:
Take The Magic Step Foundation, Inc.
777 Yamato Road, Suite 300
Boca Raton, FL 33431 USA
Updated May 11, 2018
© Copyright 2008-2022 by Uta Pippig and Take The Magic Step®. All Rights Reserved.