"I owe my deepest gratitude to the wonderful people who contributed their knowledge and support to me. What they did and what they gave me allowed me to persevere with the development of our Take The Magic Step organization."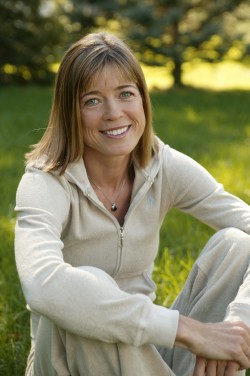 Uta Pippig, whose running career included several major international marathon wins, #1 world rankings, world championships and records, and the Olympics, is the founder and president of Take The Magic Step, LLC and co-founder of the Take The Magic Step Foundation. She is also an international speaker who centers her presentations on "Running To Freedom™" and a columnist for the German newspaper "WeLT."
Born in Leipzig, Germany, to parents who were both physicians, Uta was introduced to competitive athletics at the age of 13 when a classmate invited her to join a local running club. That began a life-time commitment to running and fitness. After passing her final exams ("Physikum") as a medical student at the Freie Universität Berlin in 1994, she decided to focus her attention on running professionally and giving back to her community.
On January 5, 1990, almost penniless, Uta and her coach, Dieter Hogen, left East Germany, yearning for the freedoms of the west. Only then was it possible for Uta to pursue her lifelong goal to run and win the marathon that stood for freedom in her mind: the Boston Marathon. 1994 completed the 2nd part of that dream, and two more consecutive Boston Marathon wins,'95 and '96, followed. Further wins included the New York City Marathon, and three Berlin Marathon victories, including the 1990 "Reunification Marathon," as it is often referred to, after President Reagan's famed "Mr. Gorbachev, tear down this wall" speech resulted in a united and democratic East and West Germany.
A two time Olympian, Uta was ranked the #1 woman marathon runner in the world in 1994 and 1995 and world record holder in the half marathon. In the process, she won the world over with her smile and the kisses she blew to the crowds on her way to the finish lines bridging the divide between athlete and fans with her giving spirit and desire to share her happiness and success with everyone.
Uta's characteristic passion, discipline, and commitment enabled her to launch Take The Magic Step, LLC, which she considers to be "the pinnacle achievement" of her life. "I owe my deepest gratitude to the wonderful people who contributed their knowledge, support, and inspiration to me over the years. What they did and what they gave me allowed me to persevere with the development of this organization."
Uta designed Take The Magic Step® to be engaging and educational, shaping the content in a way that appeals to nonprofits, schools, companies, athletes and non-athletes alike. Uta shares what she has learned about living a healthy life. She works to help people learn key principles and apply them—joyfully and effectively with her motto "Intensity Meets Playfulness™." Not everyone is a marathoner, of course, so she adapts the elements of inspiration, fitness, training, nutrition, stress management, and yoga to each individual's needs.
In April of 2008, Uta and Take The Magic Step® business consultant Michael Reger created the Take The Magic Step Foundation to provide support to organizations that promote education, fitness, and health. The foundation's mission is to improve the lives of underprivileged children and adults who lack education or face poor health or life-threatening illnesses through organizations already established to help others.
Uta channels the joy, passion, and discipline she brought to world-class competition into Take The Magic Step®, into the health and fitness programs she developed, into coaching individuals and groups, and into her charity foundation and speaking engagements.
For her audiences, Uta aims to provide a bridge to a healthier, happier life. "I hope I am able to inspire people whose lives may be on a downturn—because I've been there," she said. "Each of us is unique. I learn so much from every person I meet. I try to see beyond the expressions on their faces, to catch a glimpse of their dreams—but also to see their struggles and worries. When someone in need asks me how to reach his or her goals, it creates in me the desire to be part of a bridge that may help them to advance on their journey."
In her history-inspired presentation, "Running To Freedom™," Uta explores the desire for change and how to find inspiration to reach your goals—one small step at a time. "I had my own 'Running To Freedom' journey," explains Uta. "By combining my life experiences with the audience's desires and challenges, I hope to inspire everyone to realize that they have the freedom to change their life and improve their health and wellbeing. We all have this innate ability, but at times it needs to be rediscovered, recognized, and then nourished." The principals of 'Running To Freedom' apply to social, emotional, health, business, and personal development.
In late autumn 2016 Uta began writing columns for the German newspaper "WELT," since November 2017 for the German running magazine "Laufzeit & Condition." She is also writing her book, "Running To Freedom™."
Today, Uta divides her time between Take The Magic Step's operations in Colorado, Florida, Massachusetts, Germany, and New Zealand, and her global speaking engagements, also following invitations to charity and running events.
Some of Uta's Career Highlights
Winner of the Berlin Marathon—1990, 1992, and 1995
Winner of the Boston Marathon—1994, 1995, and 1996
Winner of the New York City Marathon—1993; the only German ever to win
Runner of the Year by the Association of International Marathon and Road Races (AIMS) 1995 and 1996
Ranked #1 in the world 1994 and 1995 in both the marathon and the half marathon
Former German record holder in the marathon: 2:21:45 (2 hours, 21 minutes, and 45 seconds). Recorded at the 1994 Boston Marathon. It was the third-fastest marathon result ever by a woman at that time.
Former World record holder in the half marathon for almost two years: 67:58 (67 minutes and 58 seconds). Recorded at the 1995 Kyoto Half Marathon. It still is listed as the German record to this day.
Olympic Games: 7th in the 10,000 meters, Barcelona, 1992; pelvic stress fracture and DNF in the marathon, Atlanta, 1996
World Championships: 6th in the 10,000 meters, Tokyo, 1991; 3rd in the 15K, Nieuwegein (NED), 1991; winner with the German team in this event
Indoor World Record in the 5,000 meters, Stuttgart, 1991 (15:13.72—15 minutes and 13.72 seconds)
Winner of numerous road and cross-country races, and Masters competitions (40+) worldwide. She also participated in triathlon events.
Founder, Take The Magic Step, LLC (2004)
Co-Founder, Take The Magic Step Foundation (2008)
Contributing writer for TODAY Health online, The Boston Globe, German Runner's World, and other publications
Columnist for the German newspaper WELT (December 2016-present)
Columnist for the German running magazine Laufzeit & Condition (November 2017-present)
Ambassador for running, fitness, and health for the Berlin Marathon (2017-present)
Broadcast analyst, Boston Marathon; Berlin Marathon
Colorado Running Hall of Fame, Class of 2015
Berlin Marathon Hall of Fame, 2017
Coach for Dick and Rick Hoyt's Boston Marathon teams (2008 to 2015)
ReBrand 100 Award, 2006, Take The Magic Step
Member, Board of Advisors, MIT AgeLab in Boston (2005 to 2010)
To read Uta's Milestone Stories, please click: here.
Updated July 14, 2018
© Copyright 2004-20018 by Uta Pippig and Take The Magic Step®. All Rights Reserved.