The Berlin Marathon 1995: "I Dedicate This Run to the People in Berlin"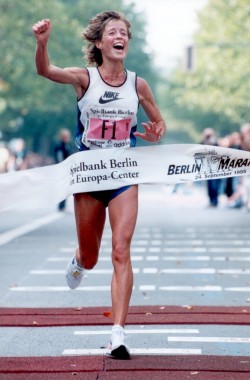 A record crowd of more than a million enthusiastic people packed the streets of Berlin for the 1995 marathon—and they were not disappointed. Both the women's and the men's races produced magnificent performances.
If there were any doubts that Uta was one of the best women marathoners in the world, she put them to rest with a spectacular win in 2:25:37. And Kenyan Sammy Lelei—trained by Uta's coach and partner Dieter Hogen—ran the second fastest performance of all time with 2:07:02. Only the world record holder Belayneh Dinsamo of Ethiopia with 2:06:50 had gone faster. There were 16,677 starters from 62 countries.
For Uta, raised in East Germany, winning again in her home town with both East and West sections of the great city now comfortably united, was almost as great a thrill as the first time she did it at the time of Germany's reunification five years earlier. "It was an incredible feeling to win in my home town," she said later. "I dedicate this run to the people in Berlin." She was also "very happy" with her time—even though her dream of setting a world best for the year was over. In Boston in the spring, she had run 2:25:11. Now 2:25:36 in Berlin.
Uta had always admired the training quality of the Kenyan men, many of whom she trained with in Boulder, Colorado, like Sammy Lelei and Sammy Nyangincha. But it was a Kenyan woman—Angelina Kanana—who she found herself battling for much of the race.
Angelina set off at world record pace, passing 10 kilometres in 33:26, 12 seconds ahead of the Berlin runner. "But I knew she couldn't keep that pace up" said Uta. Sure enough, she closed the gap and passed Angelina at 20 kilometres in 1:07:34, and went clear at 30 kilometres with the clock showing 1:42:14.
Thigh cramps spelled an end to Uta's attempt at the world best, forcing her to run slower than she had planned. "There were signs of the cramping a few days before the race, when I had a little bit of diarrhoea," she said later. "On top of that, I didn't get my bottle at the first water stations."
But despite the problems, Uta, cheered on constantly with chants of "Uta, Uta!," delivered an impressive home win, with Kanana coming in second in 2:27:41. It was Uta's third win in Berlin, adding to victories in 1990 and 1992. It was also her fifth big marathon victory in succession. After Berlin in 1992 came success in the 1993 New York race, Boston 1994 (with a German record of 2:21:45), Boston 1995, and now Berlin once again.
To Dieter Hogen, who not only trainied men's winner Sammy Lelei but also fourth place finisher Sammy Nyangincha (2:09:35), also of Kenya, it was "a great triumph." Both men had trained in Boulder with Uta—and Sammy Lelei missed the world record by 12 seconds, creating an international stir. "We wanted to go for it because the conditions were perfect," said Hogen's comment on the world record pace set by the men.
It was left to Horst Milde, the Berlin Marathon organizer-in-chief, to sum up an incredible day for marathoning. "A race with these results comes once in a decade."
Posted September 19, 2008
© Copyright 2008-2022 by Take The Magic Step®. All Rights Reserved.
Article Archive