The Berlin Marathon 1992: "I Felt Like I Was Dreaming"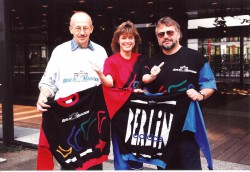 "Winning in Berlin a second time, I felt like I was dreaming," said Uta after triumphing in 1992—this time wearing the colors of SC Charlottenburg (a Sport-Club in Berlin), and was running before her hometown fans for the first time since her 1990 victory. More than a million spectators lined the course to witness a victory bravely won over adversity.
Her time of 2:30:22 was far from Uta's personal best of 2:26:52, but the joy of the Berlin runner and her coach and partner Dieter Hogen was undiminished since the victory was hard won: Uta ran much of the way in pain from a foot injury.
Uta had set her sights on breaking the German record of 2:25:24, held by Katrin Dörre, and after a few kilometers the 27-year-old had broken clear of her rivals. Splits of 51:11 minutes at 15K and 1:12:37 at halfway pointed to her being right on course to set the national record. But there was trouble ahead. Said Uta: "In training for the race I had pushed the right foot to the limit and was on the verge of having a stress fracture. The pain came on at 25 kilometers and I even thought of dropping out."
But there could be no question of quitting in front of such devoted home supporters, she told herself. Certainly not right there at 25 kilometers—because the course went close to where Uta lived in Berlin, and plenty of fans in Steglitz lining the streets knew her personally.
Uta made the decision to ignore the national record—but stay in the race. She slowed to run tactically and the previous year's winner and course record holder Renata Kokowska (2:27:36) from Poland and the Russian Ljubov Klochko were able to close on her. The trio ran together to the 40 kilometer mark. "The pace was slow, but I didn't want to do anything to jeopardize the victory," Uta explained. She waited patiently until two kilometers from the finish before making her move. When she did, neither Renata Kokowska nor Ljubov Klochko could stay with her. Uta ran down the popular 'Kurfürstendamm' blowing kisses to the spectators, en route to a celebrated victory.
The nagging foot injury had left her winning time clearly short of the target she had set for herself. …but when Uta returned home to her apartment in Steglitz later that day there was a surprise awaiting her. Neighbors had hung a banner on the front of the building. On it was written: "THAT WAS GREAT, UTA!"
© Copyright 2008-2022 by Take The Magic Step®. All Rights Reserved.
Article Archive