New York Marathon 1993: Uta's Win in the Big Apple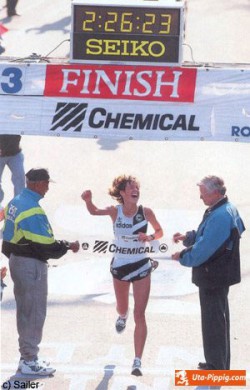 Uta Pippig made the turn onto Fifth Avenue in 1993 with no idea how close on her heels her rivals might be. It was a time when men and women started together in the great New York City Marathon and she only knew no women were by her side. Suddenly, from the crowd, came the excited shout of her coach Dieter Hogen.
A breathless Hogen had dashed from First Avenue to Fifth, fighting his way through packed crowds lining the route. And now he yelled the words she had waited to hear: "90 seconds… 90 seconds." That, he was telling her, was her lead over Nadia Prasad of France when they passed Dieter on Third.
Uta knew she hadn't seen Prasad since they went through 15 kilometers more than an hour ago, but she didn't appreciate what a gap she had opened up. In fact, the reality was even better: what neither runner nor coach could know for sure was that since Third Avenue and its throngs of cheering fans Uta's advantage had grown to a stunning three minutes. She couldn't have spotted the now second-place pursuer Olga Appell of Mexico if she'd had a telescope!
Uta, representing Berlin's Sports-Club Charlottenburg (SCC), was the fastest woman in the field—and she was heading for a victory that was beyond impressive. But in her mind it was by no means assured."
"I started to feel tired, running into a headwind and with the temperature over 20 degrees Celsius," she said. "Having to run on my own was also a factor." She kept looking around, fearing that she had overlooked someone who could still take the greatest triumph of her sports career until than from under her nose.
It was unusual for a woman runner to dominate the grand parade which is the New York City Marathon like the German athlete had done. Her time of 2:26:23 was 29 seconds inside her personal best and left Olga Appell more than two and a half minutes down at 2:28:55. "I couldn't believe there was no women behind me," said Uta as she remembers what was going through her mind during the last few kilometers in Central Park, "Then it dawned on me—I was going to win New York."
The 28-year-old runner was the first German woman to achieve the dream of every world class distance runner: to wear the winner's laurel leaves in New York. It is not just any old marathon—proof of its prestige is the enthusiasm of the two million spectators lining the 26.2-mile route. "The whole city gets behind the race, and you are well aware of that when you are running," Uta explained. "Winning Berlin in 1990 after the Wall came down was perhaps even more of an emotional win—but after I won New York in 1993 I felt as if I'd won the Olympics." The victory crowned a perfect year for her: seven races and seven wins, including victory over Lisa Ondieki, the previous year's winner in New York.
The triumph in New York also helped Uta recover from her disappointment at the World Championships. She had overtrained in the build-up, went into the 10,000 meter final tired, and could only finish ninth. After the race in New York she gained even more motivation to run fast. "The Berlin course is a flat and fast course compare to the New York City Marathon—next year I hope to put in an even better time," said Uta.
© Copyright 2008-2022 by Take The Magic Step®. All Rights Reserved.
Article Archive