After the Boston Marathon 1994: Uta Targets Marathon and Track Records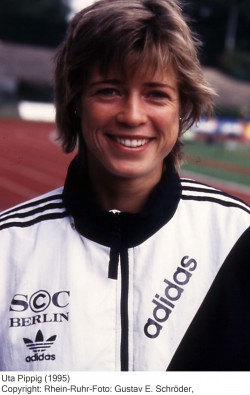 The kisses Uta blows to the crowd as she wins a marathon, whether it be in Berlin, New York, or Boston, disguise a steely determination. The radiant goodwill the sparkling 28-year-old German exudes belie her inner conviction that she currently is one of the best women distance runner in the world and that she will soon deliver proof of that. The Berliner has shelved her medical studies for three years, moved to altitude in Boulder, Colorado, and has already begun the countdown. Her total commitment to running had early success in Boston on April 18, 1994: a course record marathon time of 2hr 21min 45sec, the third fastest ever by a women and only bettered by Ingrid Kristiansen's 2:21:06 and Joan Benoit-Samuelson's 2:21:21 back in 1985.
"Boston was only the beginning," Dieter Hogen, Uta's coach and partner, said. "Uta will now concentrate on the track as well." Two years ago, many in Germany were shocked at Uta's dismissal of the records and treated her pronouncements as just hot air from an 'Ossie' (East German) drunk from the first taste of political freedom. Her victories in New York last November (2:26:24) and now Boston have silenced the doubters. Uta is for real.
But the turning point for the photogenic German came not two years ago, nor at Boston, but back in 1989 when Eastern Europe began falling apart. This was the year Uta had been "allowed out" to race for East Germany in the Marathon World Cup in Milan in the spring (she was third in 2:35:17), but was obliged to watch the Berlin Marathon itself on her television set in the eastern part of the city behind the Wall. As she sat watching Alfredo Shahanga win in 2:10:11 and Finland's Päivi Tikkanen take the women's title in 2:28:45—both race records—Uta could hardly have guessed that in five weeks the Berlin Wall would fall. Nor that in twelve months time she would heading the women's field in that same race, but running in reverse, through the Brandenburg Gate, back into East Berlin and heading for a race record of 2:28:37 on her way.
For Uta and Dieter Hogen the fall of the Wall was like a starting pistol for a new career. As members of the Army Sports Club in Potsdam, the city south of Berlin, neither had been happy in the East German system. "It was not possible to work freely or creatively," they said. "In a dictatorship, not only competitions were controlled, but also relationships, in the sense that pressure could be put on you." Dieter Hogen, who began coaching Uta in 1986, said: "We had planned to flee in 1987 and 1988 but the thought of what repressive measures could be taken against our families, stopped us."
When Uta went to the Tokyo Marathon in 1988 and placed second with 2:32:20 to Aurora Cunha's winning 2:31:26, Dieter was not allowed to accompany her. Uta had won the Leipzig race a year before in 2:30:50 and Dieter was anxious for her to race against top internationals in order to improve her basic speed. "My requests to the athletics authorities were turned down." Uta explained: "When I was allowed out I was under observation and was not allowed to make contacts. I didn't feel happy."
She said: "The political changes in East Europe came like salvation and the couple immediately left to Stuttgart where they joined the Stuttgarter Kickers club, a wealthy track and field outfit. But before long, homesickness brought Uta back to Berlin, where they switched allegiance to the running-orientated Sport Club Charlottenburg (SCC Berlin).
Three days before the two Germanies officially united, the SCC anticipated history by staging its Berlin Marathon on a new route, through both parts of the city, and Uta found herself in a new role—as the ambassadress of unity. "My Berlin win on that day was perhaps emotionally greater for me than any of my other successes" she said. "Running through the Brandenburg Gate, which for all of us had never seemed possible in our wildest dreams, gave me goose bumps. "It was indeed an historic day, with marathon directors from around the world watching as 25,000 runners streamed through Berlin's wide boulevards headed by Steve Moneghetti, whose 2:08:16 was a course and race record and equalled that of London.
Earlier in the year, Uta had made her first visit to the United States and placed second in the Boston marathon with 2:28:03 behind Rosa Mota's 2:25:24. The American city was to become the focal point of her marathon development, the young German taking third place there in successive years before her outstanding 2:21:45 victory in April 1994.
But already by 1991 the strain of combining a heavy road and track racing program with her medical studies was beginning to tell on the ambitious Uta. At first, the mix of disciplines appealed to both Uta and her coach but eventually their biggest enemy became time, or the lack of it. "Just before the Olympics of 1992 I had to sit two important exams," Uta recalls. "At the time I wanted it that way—only running 3,000s and 5,000s. But two vital exams like this just before the Olympics was really silly!"
She was studying at the Freie Universität in Berlin. "I often used to study right through the night until early morning and then sleep a couple of hours before going to lectures. How they all laughed when I put in an appearance!" It was not surprising that in the world championships in Tokyo, 1991, she was only sixth in the 10,000 meters. A hip injury that had affected her in Boston in the spring (third in 2:26:52) lingered on into the Tokyo track races. A heavy year, which had begun with an indoor world best 5,000 m time of 15:13,72 had begun taking its toll. But still Uta persisted with her studies.
In the Boston race of 1992 she felt fit again and challenged Poland's Wanda Panfil (winner the previous year in 2:24:18) for the early lead. The two, locked in combat, were running at sub 2:20 pace. They both paid for it. Olga Markova, of Russia, who had run at her own pace, passed both of them to win in 2:23:43 with Uta third in 2:27:12.
Just before the next highlight in her calendar, the 10,000 meters at the Barcelona Olympics, Uta caught a cold and could manage only seventh. To complete a year of misfortune, a foot injury slowed her to a 2:30:22 winning time in the Berlin marathon that autumn. Her target, the 2:25:24 German national record of Katrin Dörre-Heinig, had been missed completely.
Still shouldering both her athletic and scholastic burdens, Uta soldiered on through the winter but illness finally forced her to interrupt her medical studies in February of 1993. With Dieter Hogen, she moved her training base to Boulder, Colorado, and set about building up a higher training workload. The New York Marathon was the primary target, with the world track championships in Stuttgart (she was ninth in the 10,000 metres) serving as a mere diversion. Victory in the 'Big Apple' was what she wanted and it came in November with a personal best of 2:26:23. "I can set a world marathon record," Uta said. "Preferably it will be in Berlin, my home city. I'm devoting everything to running now, putting everything else, including having a child, into the background."
Dieter Hogen sees four essential ingredients for success: a diet carefully attuned to a long distance runner's needs; a balanced attitude to life, especially that experienced in highly competitive sport; training at high altitude where there is no change in climate; the creation of compatible surroundings. Boulder (2,500 m) provides much of these. "It is like living in a big family in Boulder; people help each other," said the Berliner. With her coach she has even bought a house outside town to avoid paying rent when they go to Colorado three or four times a year for long, intensive training periods.
Uta has captivated the United States, not just through her outstanding road running—she is undefeated in two years—but also through her charming personality. Her rapidly improving English—she is rarely short of words—has earned her press allies. After winning the Bolder-Boulder race, one local newspaper penned this: "With her humor, her German accent, and her upbeat manner, she's won many more friends. For the first time I heard a German say: 'Mama mia'. Wow!"
© Copyright 2008-2022 by Take The Magic Step®. All Rights Reserved.
Article Archive