Thursday, October 3, 2019 — Strausberg (Germany)
Strausseelauf — Uta Joins This Fun Run in Her Hometown
This will be Uta's tenth time joining the race. The event is a local tradition dating back to 1924, and was part of Uta's childhood memories and younger running years.
Looking forward to a beautiful Autumn day, Uta will run the 9.2K course (she still cherishes holding the course record) with the adults and older youths. There is also a shorter 4.1K course. Afterwards, she will help with the awards ceremony and the presentation of the storied cup of Mayor.
For more information about the race please visit www.Strausseelauf.de and for Uta's Blog about the event please see "'Strausseelauf'—On Autumn Trails to Memories of my Childhood and Youth." The link also includes an excerpt from an interview, which Uta was invited to do as part of a project for the Strausberg "Theodor Fontane" high school, which she attended as a teenager. Johanna Tomalik, a student at the school, conducted the interview.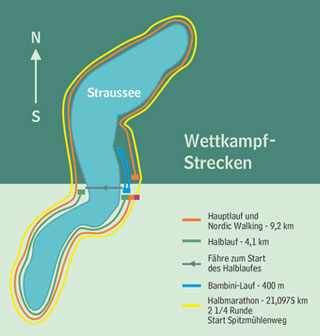 Time:
7:30 am Race Registration at the Theodor Fontane High School
9:00 am 400m Kids (Bambini Run)
9:15 am 4.1K Students and Halfmarathon Adults
9:30 am 4.1K for Youth and Adults
10:45 am 9.2K Men's Race
11:00 am 9.2K Women's Race and Nordic Walking
Location:
The main 9.2K run, as well as the Nordic walking and kids' events, start near the Straussee lake — Fichteplatz/August-Bebel-Straße, 15344 Strausberg. The starting line of the 4.1K race and the half marathon is located on the other side of the lake. Transportation to this point will be provided by a ferry.