Monday, May 13, and Saturday, May 18, 2019 — Berlin (Germany)
Uta in Her Hometown Berlin for the Annual Avon Women's 10K Race
Uta is looking forward to her fun "yoga and run" training session with some of the participants of the Avon Women's 10K just five days before she will be out on the course and running with thousands of women in this year's Avon Race. She looks forward to the beautiful course that winds through the beautiful Tiergarten Park, finishing close to the Brandenburg Gate. Running, shopping, festivities, and chill-out zones will line the 5K circular course. The event raises awareness and money in the efforts and fight against breast cancer.
Uta's Appearances in Berlin:
On Monday, May 11 there will be a training session with Uta at 6:15 pm at the Tiergarten Park. The session will start with a focus on yoga, stretching, and stabilization, followed by an easy run.
On Saturday, May 18, there is an exciting afternoon with the children for the 500-1000m Kids Run for 10 year-olds and under, Walking and Nordic-Walking events, the 5K and 10K. Uta will be at the 6:00 pm 10K starting line, and then out on the course. The start and finish are located on the "Straße des 17. Juni." The post-race awards ceremony for the 10K runners is at 7:15 pm.
Here are the 10K course map and a map of the start and finish: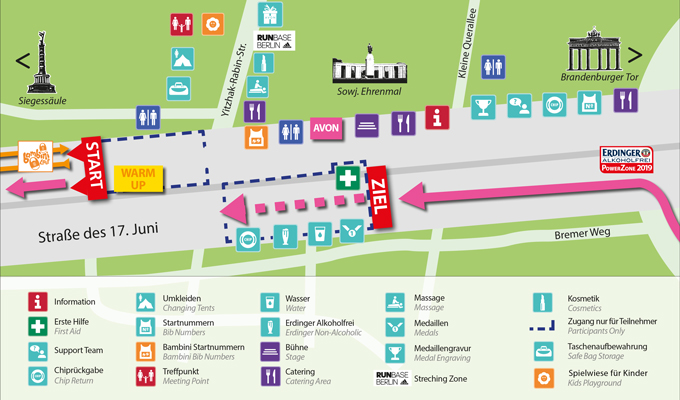 For course information please visit: www.Berliner-Frauenlauf.de
Time:
2:00 pm 10K Walking (Timed)
2:05 pm 10K Nordic-Walking (Timed)
2:20 pm 500-1000m Kids Run
3:40 pm 5K (Timed)
4:10 pm 5K (Untimed)
4:40 pm 5K Walking (Timed and untimed)
4:45 pm 5K Nordic-Walking (Timed and Untimed)
6:00 pm 10K Run (Timed)
Location:
Start and Finish Line — on the boulevard Straße des 17. Juni (between the Brandenburg Gate and "Kleiner Stern"), 10785 Berlin, Germany. No parking is available for this event. Please use public transit.