Friday, September 22, to Sunday, September 24, 2023 — Berlin (Germany)
Uta Excited to Join the Celebrations in This Year's Running of The Berlin Marathon
Will marathon legend Eliud Kipchoge win his fifth Berlin Marathon this year and win the storied event for two consecutive years? In order to accomplish this feat, he will have to fend off fellow Kenyans Amos Kipruto and Geoffrey Kamworor, Ethiopian Birhanu Legese and several other world class competitors. The women's race may come down to a battle between last year's champion Ethiopian Tigist Assefa, who surprised everyone with her 2022 win, and Kenyan Sheila Chepkirui.
Uta will be at the starting line to cheer on the elites and the more than 45,000 runners who have registered for this year's marathon. She will run part of the course with the 'RTL-Spendenmarathon', the charity relay team in support of underprivileged children. And she will be at the finish line to cheer on the Run for Children charity team which is raising tens of thousands of euros for underserved children across Germany.
"Good luck to each and every runner," said Uta. "The enthusiasm for the children's events has increased every year—and that is so important to me and I just love being part of all the energy."
Uta has an increasing role as a Berlin Marathon Ambassador and will be involved in many of the weekend activities. You can read her advice to runners — from beginners to elite — on the Berlin Marathon's Website under Uta's Running Columns. She provides training tips that cover the weeks leading up to the marathon, and how to run your best race.
Uta's Appearances in Berlin:
On Friday, September 22, she is looking forward to meeting many old and new friends at the "Get Together Party" in downtown Berlin.
On Saturday, September 23, the Bambini Run, fun runs for the youngest, will take place at the former Airport Tempelhof, Platz der Luftbrücke 5, 12101 Berlin. Beginning 11:00 am.
On Saturday, September 23, Uta will talk about last-minute marathon tips to the wonderful Run for Children Charity Team. The team has grown to 84 runners this year. The runners come from all over the world to support the children in Berlin by running the marathon and also by donating to Children for a Better World, which was founded more than 29 years ago by Florian Langenscheidt's family and 23 other friends and partners. The foundation supports different youth programs to help children in Germany lead a better life.
On Sunday, September 24, Marathon Day, Uta will be at the starting line in the morning, later at the finish line to greet the incoming runners, and be with the Run for Children charity team, and help celebrate crossing the finish line. Both the start and finish are on the boulevard Straße des 17. Juni (between the Brandenburg Gate and "Kleiner Stern") — 10785 Berlin. Have a great run!
Marathon Course Map: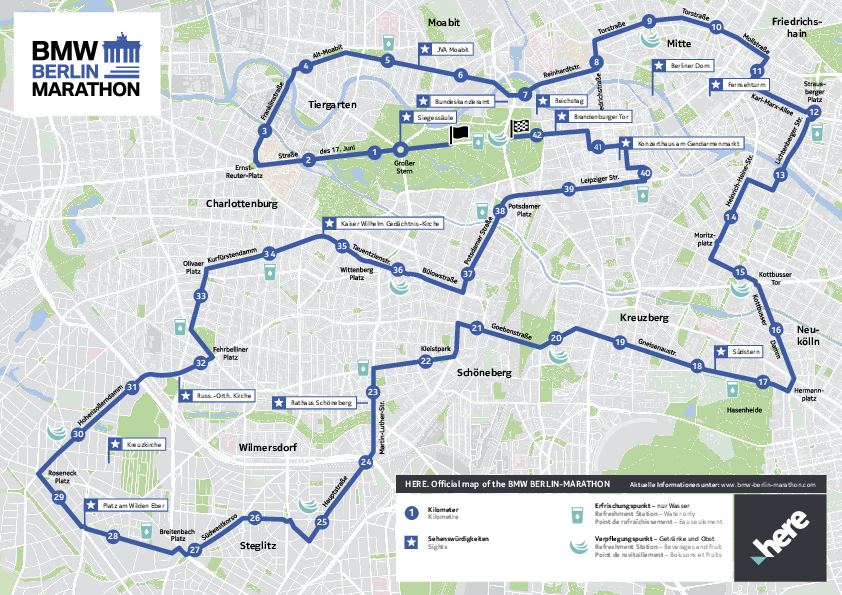 For more information please visit www.BMW-Berlin-Marathon.com. The race organizers urge you to use public transportation to attend the event, since no parking will be available. Also, your bib number will give you free access to some public transportation this year.
Posted September 23, 2023
Time:
Start of the Berlin Marathon on September 24:
8:50 am Hand Biker (Elites)
8:57 am Wheelchair Competitors and Hand Biker
9:15 am Runners (in four waves)
Location:
The marathon will start and finish on the boulevard Straße des 17. Juni (between the Brandenburg Gate and "Kleiner Stern") — 10785 Berlin.